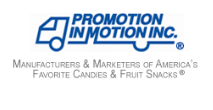 Forklift Operator- All shifts available. at Promotion In Motion Inc.
SOMERSET, NJ 08873
JOB OVERVIEW
Responsible for operating all department equipment including all forklifts, pick up truck and box truck. Coordinates material transfers between Pierce and Cottontail warehouses. Maybe based in either.
DUTIES AND RESPONSIBILITIES
Unload inbound shipments safely and move product to storage locations
Efficiently stack and store the merchandise in the appropriate areas.
Report food safety and quality issues to Plant management and SQFP
Follow PIM Brands GMP rules
Monitor fellow employees for adherence to GMP's.
Ensure inbound and outbound shipments are accurate and free of damage. Report quality variances
Order Picking: Pull and prepare product for shipment, ensuring that the exact number and type of product is loaded and shipped. Perform picking duties in an efficient manner
Loading: Efficiently move product from staging and/or storage areas into trailers
Coordinates all warehouse material management consisting of raw material and packaging.
Schedules work assignments and projects to all warehouse shifts.
Prepares, coordinates and delivers materials to Pierce. Complete all related paperwork for accurate tracking of material movement.
Performs system transfers of materials and put-aways
Receiving of materials and non-consumables and entered in to the system
Enforces the implementation of workplace policies and procedures
Promotes and exhibits safe work behaviors
Performs other duties as required.
Ability to work additional hours as needed
EDUCATION, EXPERIENCE AND TRAINING
High School education or equivalent work experience is strongly preferred.
Possess clean driving record and Forklift license in good standing.
Strong organization and coordination skills
Able to read and write English
Attentive to detail.
Forklift Certified
Good communication and interpersonal skills.
RF Scan Gun experience
CDL license a Plus
Demands include: standing, walking, sitting, bending, reaching, kneeling and crouching; manual dexterity of hands and fingers to handle or feel objects, tools and controls. Reasonable accommodations will be evaluated and considered to enable an individual to perform the essential job functions.

Job will generally be performed in the manufacturing plant. When on the plant floor it is representative of a large, busy manufacturing operation. Noisy, active, objects on the floor, constant movement and traffic flow of motorized equipment. Hair net, beard net, assigned work uniform, protective eye wear and gloves are among the GMP required apparel that must be worn, if indicated, on the plant floor

Apply Here: https://www.paycomonline.net/v4/ats/web.php/jobs?clientkey=E7AE34ECD7CBFF9A5131E1793B72C101
Medical, Dental and Vision
401K
Performance bonus
Employee Referral Program
Paid Holidays
15 - 18 /hour
Forklift / Pallet Jack Operator
What is this?