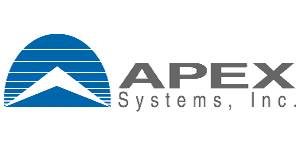 Full Stack Developer at Apex Systems
Atlanta, GA
Job Description
Job #:
 1005856
Full Stack Developer  REQ ID: 1005856Job Summary:
The Sr Software Engineer needs to be enthusiastic, creative, ready to learn and have a passion for solving real business challenges.  In this position, the Sr Software Engineer will need to work well with others, including hearing client needs and translating them to actionable results.  A high degree of responsiveness and independent judgment is required to plan, prioritize and organize in a fast-paced, rapidly changing environment.  The position will work between technical solutions and understanding what a client really wants.  Must be highly self-motivated and driven in order to succeed in this position.
If this sounds like something you'd be interested in, please email resumes to Lindsey Moltz at
lmoltz@apexsystems.com
Primary Duties/Responsibilities:
Develop custom software as part of an Agile software development team
Configure, analyze, design, develop, maintain and/or refactor new/existing program code and applications to support business processes and functions and keep technical debt to a minimum
May translate logical information model to efficient physical database designs
Interface as necessary with all critical integration points to ensure that applications are integrating successfully and efficiently with all requested applications
Participate in application development using Java, Spring Framework, JavaScript, Bootstrap, Hibernate and other technologies
Sharing technical and business domain knowledge with other team members
Participate in problem solving and troubleshooting for the assigned application(s), functional area(s), or project(s)
Share knowledge by effectively documenting work
Stay current with changes in the technical area of expertise
Develop and maintain a thorough knowledge of the assigned application(s), functional area(s), or project(s)
Work with the team to ensure the quality of the assigned application(s), functional area(s), or project(s)
Respond quickly/effectively to production issues by taking responsibility for seeing those issues through resolution
Proactively serve as a troubleshooting resource and subject matter expert across the team
Adapt easily to a variety of different positions/roles/functions from day to day
Develop custom software as part of an Agile software development team
Configure, analyze, design, develop, maintain and/or refactor new/existing program code and applications to support business processes and functions and keep technical debt to a minimum
May translate logical information model to efficient physical database designs
Interface as necessary with all critical integration points to ensure that applications are integrating successfully and efficiently with all requested applications
Participate in application development using Java, Spring Framework, JavaScript, Bootstrap, Hibernate and other technologies
Sharing technical and business domain knowledge with other team members
Participate in problem solving and troubleshooting for the assigned application(s), functional area(s), or project(s)
Share knowledge by effectively documenting work
Stay current with changes in the technical area of expertise
Develop and maintain a thorough knowledge of the assigned application(s), functional area(s), or project(s)
Work with the team to ensure the quality of the assigned application(s), functional area(s), or project(s)
Respond quickly/effectively to production issues by taking responsibility for seeing those issues through resolution
Proactively serve as a troubleshooting resource and subject matter expert across the team
Adapt easily to a variety of different positions/roles/functions from day to day
Required Experience & Specialized Knowledge and skills
BS/BA in related discipline or equivalent combination of education and work-related experience required.
5+ years of experience required in related field (i.e. Computer Science, Computer Engineering, and Engineering);
3+ years of JavaScript HTML5 development required
React JS experience required
Extensive SQL Skills
Demonstrable experience in software development with Java
Experience preferred in one or more of the following technologies: J2EE, Spring Framework, Bootstrap, Hibernate
Ability to learn, use, implement, and integrate leading technologies
Excellent problem solving and analytical skills
Ability to think strategically
Able to work independently, self-motivated, and a strong team player; Self-starter with ability to work with minimal supervision
Excellent written and verbal communication skills, able to communicate with all levels of the organization
Ability to investigate, troubleshoot, and fix software defects and configuration issues
Ability to function in a changing, fast paced start up environment alongside a diverse, high performing team
The ability to be self-organized and define and deliver on priorities
A high level of attention to detail, excellent follow through, and reliability
Ability to generate innovative ideas and solutions to challenges/opportunities
Ability to handle multiple tasks simultaneously
Ability to work with cross functional teams and with other business/technology groups within an organization
Experience applying software development methodology and standard best practices and methodologies;
Good knowledge of and experience with user interface design patterns, visual design elements, web technologies, and development methodologies;
Good knowledge in Object Oriented analysis, design, and programming
Experience using version control (Git)
Overall use of best practice tools, build tools, and scripting
Large-scale web application development
Experience with AWS
Good working knowledge of or experience in the following areas: Apache Tomcat, CSS, AJAX, Java 7/8, J2EE, HTML, DHTML, XSLT, XML, Linux/Red Hat, Web Frameworks (JSP/JSTL, Spring), Active MQ, JMS, QUARTZ Schedulers, JavaScript, PL/SQL/JDBC/Hibernate, MySQL 5.6 and greater, Web Services, SOAP and REST services, IDE (Eclipse), Maven, Jakarta Tools/Libraries, MS Office, Visio, HTML5 (web worker concepts), jQuery, Bootstrap, React JS Framework
Other duties as needed or required
Requires physical ability and mental acuity to execute the duties of the position successfully within required timeframes in order to meet business requirements.
.        
EEO Employer
Apex Systems is an equal opportunity employer. We do not discriminate or allow discrimination on the basis of race, color, religion, creed, sex (including pregnancy, childbirth, breastfeeding, or related medical conditions), age, sexual orientation, gender identity, national origin, ancestry, citizenship, genetic information, registered domestic partner status, marital status, disability, status as a crime victim, protected veteran status, political affiliation, union membership, or any other characteristic protected by law. Apex will consider qualified applicants with criminal histories in a manner consistent with the requirements of applicable law. If you have visited our website in search of information on employment opportunities or to apply for a position, and you require an accommodation in using our website for a search or application, please contact our Employee Services Department at 844-463-6178.