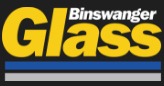 Glazier (22814) at Binswanger Enterprises, LLC
Kansas City, MO 64155
Want a career where you are empowered to make a difference? Want to grow and develop on the job? If so, Binswanger Glass is the place for you! With 64...
• Working experience in glazing
• Can read & interpret blueprints
• Fabricate & install metal storefronts, curtain wall, and heavy glass
• Working knowledge of all aspects of the commercial/residential glass business
• Knowledge of all OSHA construction jobsite requirements.