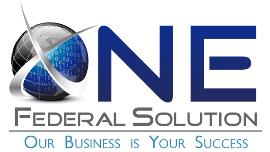 Grants Technical Assistant at One Federal Solution
Atlanta, GA 30301
OFS is seeking a Grants Technical Assistant who will provide technical and meeting support for the External Peer Review Process for the NCCDPHP and NCBDDD/ERPOS peer review teams. This support includes meeting and teleconference coordination and on-site grants technical assistance.
Why One Federal Solution?
As an industry leader in providing government services, One Federal Solution (OFS) is a Service-Disabled Veteran Owned Small Business (SDVOSB) whose primary mission is to provide the Federal government with outstanding services in the areas of Program Management, Information Technology Enterprise Management, Healthcare Administration and Test & Evaluation. OFS is resolute in our commitment to delivering unparalleled performance by simply listening to our customers and exceeding their expectations. We understand the government's infrastructure requirements and have aligned our business to offer consultation services to support the needs of our customers, offering end-to-end solutions that enable agencies to procure from a single, reliable source.
We exhibit pride and quality in our work and relationships, maintaining high ethical standards to achieve the goals of OFS. We uphold an uncompromising and steadfast adherence to honesty, truthfulness, and sincerity. We will uphold full loyalty to the company, showing pride as we strive to make it the best it can be. We value each individual and recognize their loyalty and contribution as being important to OFS' success. We treat everyone with the courtesy and respect they deserve. We vow to openly communicate with each other to foster an environment of trust. We are team leaders who apply our values to our customers, team members and each other.
What You'll Do?
Prepare Appointment memos for each panel
Prepare Federal Register Notice for each panel
Process Electronic Mailings 6-8 weeks prior to each review, including such documents as the conflict of interest statement, an invitation letter, and a list of applications, the reviewer's guide, a copy of the Funding Opportunity Announcement, the review criteria (including a description of the scoring range), and forms for the reviewers critiques.
Coordinate and Plan Teleconference for each panel; obtaining conference room at CDC for CDC participants, and ensuring reviewers have all information and materials needed to fully participate on the panel.
Distribute Review-Related Materials including retrieval of applications from IMPAC II, distribution of applications to reviewers, and tracking the documentation sent to reviewers.
Prepare for Panel including prepare and distribute panel roster, meeting agenda, reviewers list, signed conflict of interest forms and reviewers' critics for panel chair, ERPOS Director and SRO.
Document and Prepare Scoring Report with all final scores for each application including rank order.
Coordinate Records and Data Management
Prepare Reports, including preparation of pre and post award reports in support of the extramural lifecycle peer review and award activities.
Prepare Panel Status updates
Prepare Panel Roster
Prepare Reviewer Thank You Letters
Prepare Compensation Report for Honoraria
What We're Looking For in a Grant Technical Assistant?
Experienced in IMPAC II to include peer review, committee management and IAR modules. Ideally, the candidate will have experience importing applications from IMPAC II into the meeting module, setting up the meeting in IMPAC II, giving reviewers accessinstructions to IAR ensuring that the needed documentation is loaded into IAR.
Experience developing and revising procedures and generating reports.
Proficient in MS Excel, MS Word and Adobe.
Equal Opportunity Employer:
OFS is an equal opportunity employer. We embrace diversity and inclusion. We celebrate our employees' differences, including race, color, religion, sex, sexual orientation, gender identity, national origin, age, disability, and Veteran status. The different makes us better.
65,000.00 - 80,000.00 /year