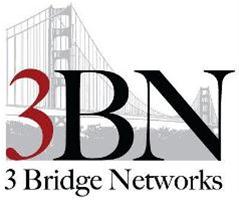 Head/Director of FP&A at 3 Bridge Networks
San Francisco, CA 94111
Are you an entrepreneurial finance professional? Do you have a passion for driving strategy and working closely with leadership of a fast-paced, growing company?

As the Director of Financial Planning and Analysis, you will be a key partner of a high-profile team, working side by side with the CFO. You will provide crucial business intelligence to support strategic decision making and influence decision that have a real impact on P&L. This position plays a critical role in achieving the company's goals, and candidates should be able to work well with a diverse group, have a proven capacity to develop and maintain complex financial models, and show a strong independent streak.
This role is with a high-growth heavily funded Series D startup.

RESPONSIBILITIES:
Lead the financial forecasts, annual budgets, and long-range strategic planning processes partnering with all functional areas across the business to ensure alignment of business and financial goals
Support strategic business decision making through financial modeling and analysis for business and product teams, including ad hoc modeling and analysis
Closely monitor financial metrics and business drivers relevant to the business units including pipeline development, rep productivity, renewal rates, cost of new customer acquisition, and product profitability
Generate, maintain and automate financial reporting, including weekly, monthly and quarterly packages for key internal
Provide the management team with support for Board presentations, business development and fundraising opportunities
Team with the CFO and Controller to define and implement best practices for financial management and reporting across the enterprise
Serve as a direct liaison for special projects and high-level strategy initiatives
REQUIREMENTS:
Degree in Finance, Accounting, Economics or related field
7-10 years of professional experience, 3+ years within FP&A preferred
Prior experience working in a growing startup environment, strongly preferred
Proven ability to build & manage finance teams
Experience developing financial models at a growth company and developing reporting packages, including rolling reforecasts
Excellent quantitative and analytical skills, with a high attention to detail
Advanced Excel and financial modeling skills
Ability to work autonomously, meet deadlines and thrive in a very fast paced environment
Exceptional communicator with ability to present concepts, recommendations and analyses to senior management in a clear, concise and actionable manner
Superior problem solving and project management skills, with the ability to proactively manage numerous projects with competing timelines
Exceptional work ethic, team mentality, positive attitude, highly driven, self-motivated, and excellent business partnering skills
Maintain the highest standards of accuracy and precision; detail-oriented, highly organized and resourceful
Inquisitive, eagerness to learn, and willingness to roll up your sleeves to get things done
138,520 - 193,755 /year
Managing Director (General)
What is this?