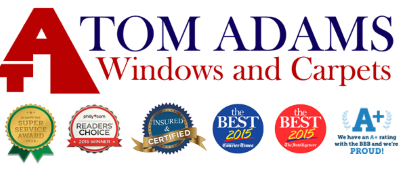 Home Improvement Sales Closer at Tom Adams Windows and Carpets
Churchville, PA 18966
Are you ready to earn $70K - $100K or more in the Lehigh Valley to Philadelphia Region with a company built on old fashion values of trust and integrity? Are you an enthusiastic and honest people person who cares about the quality of your work and how it affects others? Do you understand the importance of truth and knowledge combined with award winning customer service and workmanship in the sales process? Do you like getting qualified leads and excellent commissions without being a 'road warrior'? Do you believe the customer comes first? Do you want to be part of a growing industry with limitless earning potential?
If your answer is yes, then this is the perfect opportunity for you!
Tom Adams Windows and Carpets is a family owned home improvement company founded in 1955 and we are expanding into Bucks, Montgomery, and the Lehigh Valley area.
We have been designing, selling and installing exterior and interior improvements for commercial and residential clients such as:
Windows
Doors
Siding
Bows and Bays
Carpet
Hardwood
Ceramic Tile
LVT Tile
Join our team of professional, caring sales people who relish the interaction of customers and sell only quality products like:
Armstrong Flooring
Marvin Windows and Doors
Provia Windows and Doors
Thermal Windows and Doors
Provia Siding and Stone
Mohawk Carpet and Hardwood
Shaw Carpet and Hardwood
Dal Ceramic Tile
And more Made in the U.S. A, brands
Tom Adams has been Awarded by Window and Door Magazine as one of the BEST Installation Companies in the USA and nationally awarded for Best Customer Service in 2019. We have earned our A plus rating from the Better Business Bureau for the past 15 years and Angie's List Super Service recognition. Our current and previous employees rate us online with 4- 5 stars!
If you are ready to have a great career in showroom and in-home sales, we will invest quality time to train you about the importance of our industry. We will educate you on products, service and installation, so you can communicate our Award-Winning Process to your customers. We will provide you an IPAD to enter your orders professionally and correctly into our CRM system.
The right person can start earning immediately with this full-time, draw against commission position! You will need a driver's license for short 10-15-minute trips to visit qualified leads. You will need to pass a background check, be a great communicator, and be willing to learn.
70,000.00 - 100,000.00 /year