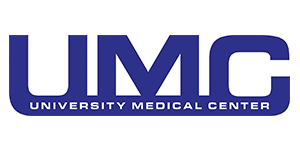 Housekeeper at University Medical Center
Lubbock, TX 79415
UMC's Mission, Vision and Standards Include:

Vision Statement: To Serve Our Patients in the Best Teaching Hospital in the Country
Mission Statement: Service is our passion. We serve by providing safe, high quality care to all, achieving excellent financial performance, and training tomorrow's healthcare professionals.
Standards of Excellence: Attitude, Communication, Responsiveness, Compassion, Teamwork, Ownership, Safety and Respect

About UMC
Magnet Designated
501 licensed beds
Regions only Level I Trauma Center
Regions only BICU
DNV accredited
Primary teaching hospital for the Texas Tech University Health Sciences Center (TTUHSC)
Ranked as one of the Best Places to Work in Texas by Texas Monthly

We are an Equal Opportunity Employer and do not discriminate against any employee or applicant for employment because of race, color, sex, age, national origin, religion, sexual orientation, gender identity, status as a veteran, and basis of disability or any other federal, state or local protected class.
General Job / Performance Information
Education and Experience

Prefer Highschool diploma or GED.

Previous housekeeping experience preferred.

Environmental / Working Conditions

Works in a well-lighted, heated and ventilated building. Hours may vary to accommodate needs in the department as prescribed by the philosophy of the hospital. May work in other areas than assigned when needed. Exposure to blood borne pathogens is high risk.

Interaction with Other Departments and Other Relationships

This position requires close interaction with medical staff and ancillary areas in order to facilitate a quality multi-disciplinary approach to patient care and safety.

Job Description

Under general supervision, the Housekeeper is responsible for, including but not limited to: cleaning and disinfecting both occupied and discharged patient rooms and bathrooms, collecting and disposing of regular waste (trash), spot cleaning carpets, furniture, fixtures, washing windows/walls, dusting furniture, equipment, woodwork, window sills, countertops, etc., exchanging full sharps boxes for empty sharps boxes, proper handling and disposing of medical infectious waste, soiled linen. Deliver clean linen exchange carts to appropriate storage areas, maintain utility rooms in an orderly fashion, vacuum patient rooms and public area carpets, clean vents and fans, clean elevators, baseboards and other cleaning duties as assigned.

Required Licensures / Certifications / Registrations

Physical Capabilities

Sufficient mobility and dexterity of both arms and legs to safely operate hand and power type tools and equipment. Mechanical devices may not be such that they interfere with safety aides (PPE's) Personal Protective Equipment. Ability to lift/move various types of equipment, supplies/chemicals, and furniture of light/medium weight. Work requires prolonged sitting, standing, walking, bending, pushing, pulling, lifting and stretching.

Skills and Abilities

Requires reading, writing and counting skills. Previous housekeeping training/experience preferred. Interpersonal skills required to interact with co-workers and departmental employees. Mental and visual effort required determining appropriate actions for housekeeping or cleaning needed in assigned areas. Requires, at minimum, basic knowledge after training of cleaning procedures, operating equipment necessary in maintaining a clean and safe environment.