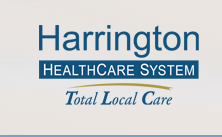 Housekeeper at Harrington Memorial Hospital
Southbridge, MA
GENERAL DESCRIPTION: Responsible for cleaning of offices and/or department areas including trash removal, high dusting, damp wiping, spot cleaning, mopping, vacuuming and bathroom cleaning.  Assists in project work as assigned.
WORK EXPERIENCE REQUIREMENTS: Previous environmental services experience preferred with ability to work independently with a minimum of direct supervision required.
EDUCATION REQUIREMENTS: High school diploma or GED preferred.