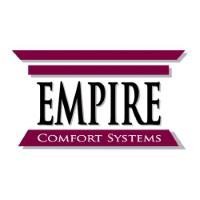 Human Resources Director at Empire Comfort Systems
Belleville, IL 62220
Human Resources Director
Position Announcement
If you are qualified and ready to be the top HR executive at a growing, multi-site family-business manufacturer, we'd like to hear from you.
Founded in 1932, Empire Comfort Systems (ECS) makes and distributes state-of-the-art fireplaces, a full line of heaters and hearths, log sets, fireplace inserts, and outdoor grills including the Made-in-America Primo Grill.  We are a fourth-generation, family-owned business that has grown and diversified operations throughout Metro St. Louis, the state of MO and Quebec, Canada.  ECS upholds a tradition of leveraging customer feedback to adapt, and is an industry leader in developing and manufacturing first-to-market products.  We are growing market share by expanding our North American presence, building on our reputation for being easy to do business with, innovating new products and embracing the "Empire Business System," which defines our approach to continuous improvement.  We have a high feedback culture that is guided by our core values, the most important of which is "leading with love."  For ECS, this means we will lead in ways that engage our employees and create a passion for our mission in a fun and family-oriented environment.  Learn more about us at  www.empirecomfort.com.
Due to Empire's recent and anticipated growth, we are now seeking an experienced, innovative Human Resources Director to oversee our Human Resources function and partner with our President and Senior Executive Team.  This strategic leadership role sets the tone for all HR and Safety initiatives, supervises a staff of 3 and is responsible for the entire talent function.


Reporting to the company President, responsibilities include:
STRATEGIC TALENT LEADERSHIP – Provide HR expertise and serve as a trusted advisor to company leadership. Partner with management to represent and effectively communicate vital messages, expectations, and direction to employees across all levels of the company. Be the culture carrier for the organization.
MANAGE OUR HR TEAM – Provide guidance and support for a team of two (2) HR professionals. Foster a culture that promotes employee engagement, teamwork, innovation and change implementation. Assess, train, coach and enable ECS' HR staff to efficiently address HR concerns in a positive and time-sensitive manner.
MANAGE OUR SAFETY TEAM – Provide guidance for one (1) safety engineer, overseeing the company's safety and security processes.  Champion the evolution of our safety culture, empowering employees and reducing work related injuries and illnesses.  Provide direction on instituting proactive measures to maintain the safety and health of employees and company facilities that are in compliance with regulatory agency guidelines and company policies.
LEAD EMPLOYEE RELATIONS & ENSURE COMPLIANCE – Work closely with managers, employees and legal counsel, as necessary, to resolve employee concerns and further manager development to ensure best HR practices. Maintain cutting-edge knowledge and resources on all regulatory and legal aspects of HR management, including FMLA, workers' comp, non-exempt OT, ADA, and EEOC. Ensure compliance with company policies including local, state and federal regulations and provide timely investigation and response to claims, partnering with legal counsel when necessary.
RECRUIT TOP TALENT – Partner closely with managers to ensure ECS attracts and hires the best talent for the right roles. Welcome new employees to our family and oversee our onboarding, orientation and training programs. Foster trusted relationships with new staffing partners and develop a temp-to-hire program for additional and seasonal hiring needs.
RETAIN AND DEVELOP INTERNAL TALENT – Partner with managers to support our high-feedback culture that strives to maximize the strengths each employee brings to our company. Drive and develop processes for annual talent assessment, professional and leadership development. Enhance processes for monthly continuous improvement feedback and semi-annual performance evaluation. Create and implement engaging training curriculum for employees at all levels. Partner with management to design, develop, implement and maintain the company's compensation program, including annual merit and bonus programs.
ASSIST WITH LABOR RELATIONS – Play a lead role in union labor relations. Partnering closely with company leadership, find and develop the right balance that allows ECS to fully engage our union employees within specific union guidelines and work rules. Ensure implementation of the company's goals for Equity, Diversity and Inclusion.
ADMINISTER BENEFITS & PAYROLL – Ensure that employees have a positive experience with the benefits we provide and understand the value and efficient utilization of these benefits. Guide the company to continuously evaluate health insurance, life and disability insurance, and other benefits offerings to verify ECS is obtaining the optimum value for employees within the means of the business. Work with the President to design and implement compensation that drives results in alignment with our company values.
Qualifications Include:

Minimum of 7-10+ years progressive HR experience. Prior HR experience in a manufacturing and/or related industrial plant environment is required.
Experience in a union environment and knowledge of labor relations is mandatory.
Must have demonstrated experience with implementation of EDI (Equity, Diversity & Inclusion) as a core pillar of culture.
Track record of success in a family-business or smaller privately-owned company where executives must be flexible in their duties is mandatory.
Experience with oversight of multiple domestic factoriesand sites is a plus.
An understanding of IL labor laws and workers compensation regulations and knowledge of state and federal HR laws and a working knowledge of OSHA, including safety regulations are desirable.
Bachelor's degree is required. Advanced degree (MBA/MA/JD) and/or HR certification a plus.


Other Skills & Experience:

Exceptional interpersonal skills with a genuine appreciation for people and the ability to relate and connect to employees at all levels of the organization.
Stellar written and verbal communication skills, including one-on-one and group presentations.
Self-starter who can work independently to build best HR practices and processes while maintaining close and transparent communication with senior leadership.
Strong attention to detail with the ability to effectively multi-task in a fast-paced environment. 
Familiarity and ability to grasp technology, including proficiency in MS Office applications and strong working knowledge of ATS/HRIS technologies.
Must demonstrate an ability to maintain confidentiality.
Requires skills in problem solving, short and long-range strategic planning as well as conflict resolution.


Ready to Apply?


Apply online with our search consulting firm at www.csiapply.com. If you experience any issues with the online application system and/or wish to make a confidential inquiry or referral, please contact our search team. Visit www.getcollaborative.com for our retained search firm's contact information.Please do not contact Empire Comfort Systems directly. 
Connecting talent with opportunity since 1994, Collaborative Strategies is a St. Louis-based consulting firm with a dedicated executive search practice. We take pride in matching entrepreneurial leaders with great opportunities and organizations like Empire Comfort Systems. All resumes and inquiries will be held strictly confidential. 
Equal Opportunity Employer
60,352.00 - 113,250.00 /year
Director of Human Resources
What is this?