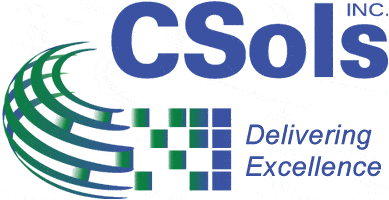 Human Resources Generalist at CSols, Inc
NEWARK, DE 19713
Human Resources Generalist
Company Overview
CSols, Inc. has become the premier Laboratory Informatics Consultancy in North America by earning and maintaining a reputation for excellence in everything we do. All CSols' relationships with employees, clients, and partners are characterized by integrity, quality, and high value. We are committed to making our world a better place and allocate a portion of our profits to helping those less fortunate.
We provide the expertise and services required to plan, implement, integrate, and validate the industry leading laboratory informatics solutions faster and better than you could do otherwise.  We are the experts!
Our People: Have on average >10 years of experience with leading Laboratory Informatics products, scientific domain knowledge, industry, IT, and regulatory expertise.
Our Culture: Demands and rewards Excellence. We promote an environment that is dynamic, fun, and encourages creativity. We have been voted a Top Workplace each of the last six years.
Your Success: Is our only objective. 
Desired Qualifications
We are looking for a mid- level candidate with at least 5 years HR experience to grow with our growing company.
Below are the qualifications best suited for this position:
Bachelor's degree in HR Management or related field
A self-starter with the confidence and creativity to grow the HR function
Ability to work independently and function as part of a team
Ability to energize others to achieve goals
Excellent listening, verbal and written communication skills
Able to research employment laws in multiple US states as well as Canada
Strong capabilities with desktop software, video conferencing and presentation tools
Ability to multi-task, prioritize, and manage time effectively
Innate desire to succeed and advance within our growing organization
Job Description:
Responsibilities and Duties will include:
Serve as primary HR point of contact for all employees
Serve as main point of contact with benefits providers / Drive annual benefits renewal process
Maintain HR records in compliance with employment laws
Assist Finance with employee records in payroll /benefits systems
On-boarding and Off-boarding employees
Benefits Orientation for new employees
Primary focal point for maintaining CSols' unique culture
Maintain company training and performance review records
Coordinate employee background checks when required
Manage our annual third-party employee survey (Top Workplaces)
Lead employee recognition / collaboration initiatives (anniversaries, events, outreach)
Benefits Overview
CSols has been voted a Top Work Place in Delaware from 2014 – 2020.  Our company culture is founded on four foundations (Excellence, Teamwork, Sustainability & Scalability, and Customer Satisfaction).  Layered on that are our 4 key principles related to people (Work / Life Balance, Shared Accountability, Effective Communication and Personal Ethics).
 Our commitment to our employees' success is supported by:
Competitive pay and bonus structure
Extensive healthcare plan(s) for you and your family
Vision plan
Dental plan
401(k), including mandatory company 3% contribution annually
Company paid life insurance
Company paid short and long term disability insurance
Generous paid time off
Comprehensive training and career planning
CSols, Inc. works to maintain a culture of excellence in everything that we do through teamwork, allowing us to exceed what any one of us could do individually. At CSols, all decisions are driven by long term sustainability and our desire to facilitate both the growth of the company and our employees. We provide a collaborative, creative environment where each person feels encouraged to contribute to our processes, decisions, planning, success, and culture.
54,141.00 - 76,867.00 /year
Human Resources Specialist
What is this?