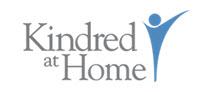 Human Resources Manager at Kindred at Home
Grapevine, TX 75019
I believe that better care begins at home.
Compassionate care, uncompromising service and clinical excellence that's what our patients have come to expect from our clinicians. Kindred at Home, a division of Kindred Healthcare Inc., is the nation's leading provider of comprehensive home health, hospice, and non-medical home care services.
Kindred at Home, and its affiliates,delivers compassionate, high-quality care to patients and clients in their homes or places of residence, including non-medical personal assistance, skilled nursing and rehabilitation and hospice and palliative care. Our caregivers focus on each unique patient to deliver the appropriate care and emotional support to our patients and their families.
Under general supervision of the Regional Vice President of Human Resources, serves as the HR Business Partner to specific client groups to ensure alignment of Business Partner to specific client groups to ensure alignment of business and HR strategies and high quality care to patients.
As the Human Resources Manager, you will:
Partners with client group leadership as a business partner to create, deliver and implement a people strategy that ensures the success of the business strategy and objectives.

Manage associate relations functions for assigned areas, including responding to, monitoring, and reporting calls from Associate Relations Hotline.

Investigate employment law issues/complaints as necessary (i.e. discrimination, harassment, wage & hour, new legislation, etc.) and other grievances and recommend appropriate resolutions.

Ensure that associates are treated fairly and positioned to best contribute to the organization's success.

Ensure legal compliance and adherence to company policies and manage company risk.

Actively coach and guide managers in the areas of effective goal setting, development planning, coaching and feedback, and performance assessment/review.

Encourage and support learning and development opportunity for all associates

Partner with field management to assess training needs and identify appropriate learning and development opportunities.

Collaborate with HR functional partners to implement and communicate compensation and benefits programs as needed to ensure managers have appropriate knowledge and understanding of compensation and benefit programs.
Required Skills
Qualifications
Bachelor's degree in Business Administration, Industrial Relations, Human Resource Management/Development, or a related field, or the equivalent

A minimum of seven years HR generalist employee relations experience

At least three years management experience in a multi-site service industry generally required

PHR/SPHR certification is desirable

Broad knowledge of human resource practices and employment laws/regulations

Strong facilitation and presentation skills and knowledge of adult learning techniques

Strong problem solving, decision-making, independent judgment and negotiation skills

Ability to multitask and prioritize

Ability to participate and drive major organizational change

Ability to meet deadlines

Excellent oral and written communication skills, project/employee management skills and the interpersonal skills necessary to collaborate and partner with cross-functional teams

Ability to travel on a regular basis
Required Experience