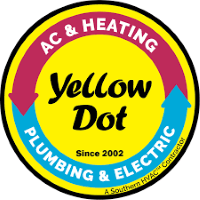 HVAC Technician - $2000.00 Sign on Bonus at Yellow Dot Heating, Air Conditioning, Plumbing and Electrical
RALEIGH, NC 27610
Overview
We are a premier HVAC service company focused on Residential & Commercial HVAC maintenance, service and replacement and is the local market leader in HVAC New Construction installs.
We currently seeking Residential HVAC Service Technician to perform HVAC services and repairs on Residential HVAC Systems for our Raleigh, North Carolina location.
We believe our employees are the most valuable business strength; therefore it is important to us that we take care of our own. We make it a point to recognize and reward those who work hard. We provide a stable, secure work environment that promotes learning and growth from within. We invest in our employees through development, ongoing feedback, open dialog, and implementing their fresh ideas. We focus on celebrating success, building relationships, and encouraging continuous growth.
We make available a top notch benefits plan which includes:
Comprehensive Benefits Package including Health, Dental, and Vision insurance options
Supplemental Insurance -- Accident, Critical illness, etc.
Long Term and Short Term Disability
Flexible Spending Account options
Paid Personal Time Off and (6) Paid Holidays per year
Life insurance options for you and your family
Strong 401k and more
We also have a competitive spiff structure in place for hourly and performance pay technicians.
Responsibilities
Essential Functions:
Troubleshoot, repair, service and maintain all types of Residential HVAC equipment & Light Commercial equipment.
Communicate with customers to resolve or repair any customer issues or problems.
Complete all invoices, warranty forms, and time sheets essential for each service call.
Maintain the company vehicle and tools in a safe, clean and organized manner.
Keep truck inventory stocked and organized.
Accountability:
Represent us in a kind and courteous manner.
Must exhibit a professional appearance and wear company issued uniforms.
Technicians start time is 7:30 am and on your first call by 8:00.
Technicians must attend all service and safety meetings unless on an approved day off.
Service Reports are to be completed on your IPad in detail and presented to the customer for approval and payment before leaving job site.
Complete a monthly vehicle inspection report due at the first meeting of each month.
Properly diagnose system failures and communicate to the customer their options for repair or replacement in an informative and professional manner.
Requirements
Job Qualifications:
High School Diploma.
Minimum 2 -- 5 years Residential Service Experience.
CFC certification is required -- Universal is preferred.
A strong working knowledge of Residential HVAC systems including Zoning, Wi-Fi, Multi-Stage, Modulating, Variable Capacity and Communicating Systems.
Good driving record with a current NC Driver's License.
Must have a clean background check and be drug free.
Willingness to be in the 24/7 on-call Rotation and work extended hours to cover call volumes.
Exceptional communication and customer service skills.
Ability to work well within a team environment.
$16.00 - $30.00 /hour
+ Commission and bonus plans