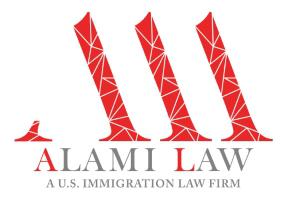 Immigration Senior Legal Assistant at The Law Office of Amira Al-Alami, Inc.
PASADENA, CA 91101
Alami Law is searching for two (2) phenomenal Senior Legal Assistants. As long as you are self-driven, there is great potential for professional growth in our office.
Title: Immigration Senior Legal Assistant - Two (2) openings
Job Description:
Responsibilities and Duties
Must be fluent in Spanish;
A minimum of five (5) years immigration law experience required;
Must be ready to hit the floor running;
Must be detail-oriented and organized;
Must be able to understand and explain immigration concepts and present strategic solutions to attorneys;
Manage a large caseload, effectively prioritizing deadlines;
Prepare diverse immigration applications, including removal defense & family-based immigration petitions, with a focus on EOIR/BIA, I-601A/I-601, and U Visa applications;
Review immigration work and make any necessary adjustments;
Meet with clients for preparation of cases;
Prepare and submit legal briefs/motions/appeals;
Assist and support attorneys in handling cases;
Attend continuing legal education (CLE) classes;
Interact with outside entities (e.g. government agencies, other law firms) to gather information or coordinate appearances as needed; and
Liaise with attorneys and staff as needed to ensure legal services meet or exceed expectations.
Salary + Benefits
Salary commensurate with experience
Full benefits (medical, dental, vision, 401(k))
On-site monthly trainings with attorneys and staff
Opportunities to serve the community via community outreach events
Opportunities for growth in our office.
Writing Samples + References
Submit your resume with cover letter
Submit three (3) of your best writing samples - motion/waiver/legal brief/U Visa related
Submit two (2) references.