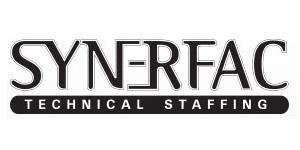 Industrial Sales and Service Representative from Synerfac Technical Staffing
Hightstown, NJ 08520
Position: Industrial Sales and Service RepresentativeLocation: New Jersey-BasedThe Industrial Sales and Service Representative services existing clients, prospects, develops, and closes the sale of products and services from new clients and existing clients.Essential duties and responsibilities include, but are not limited to, the following:
Establish and maintain contact with key personnel among assigned existing clients that result in the intake of additions and expansions to current business activity.
Service existing accounts as necessary to increase revenues from existing customers.
Travel throughout the region (40% to 50%) to build contacts, meet with prospects/leads, and to gather and present information to specific clients. Attendance and participation in trade shows or conferences in the region also may be required.
Participate in budgetary and final proposal preparation in a team environment with others from the organization including Process Engineering, Project Management, Procurement and Accounting.
Participate in and support the production of technical writing related to proposal documents for delineating scope of work, service offerings, product sales, etc.
Perform cost comparison evaluation of the company's services and treatment technologies to competitive alternatives, to move leads through the sales process to a buying decision.
Assist in defining, describing and gaining customer acceptance for scope, price, process modifications, improvements and other related changes during the execution or service phase of projects.
Cultivate qualified leads from lists of contacts provided by the company's marketing department. Outward communications may include cold calling, site visits, trade show/conference attendance, or other means for filling a sales funnelExperience
Minimum of a Bachelor of Science in Engineering or Bachelor of Arts in Business, Marketing or equivalent.
Three or more years of sales experience in Wastewater, Environmental, Industrial, or Manufacturing markets.
Strong oral and written communication skills as well as strong analytical and problem-solving skills.
Self-starter who is organized and will collaborate with technical and administrative teams to produce deliverables on time and achieve targeted results inside a matrix management structure.
Ability to exercise a wide degree of creativity and latitude, yet detail-oriented with ability to produce sound final deliverables for commercial and technical purposes.
Ability to travel domestically, to prospect, present the company and its offerings and attend sessions at corporate offices and other corporate locations.
Generate qualified opportunities to achieve revenue targets set by management.