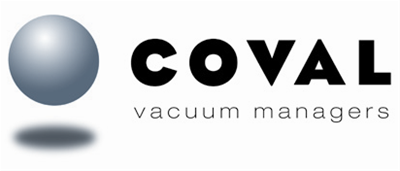 Inside Technical Sales Representative at Coval Vacuum Technology, Inc
Raleigh, NC 27606
Title:

Technical Inside Sales/ Customer Service
Company Introduction:

COVAL Vacuum Technology Inc. specializes in the manufacturing and distribution of vacuum components for the automation industry. With 35+ years of experience, COVAL is a force for permanent innovation in the field of vacuum technology for robotics and general automation. Our product line includes suction cups, vacuum pumps, vacuum switches, spring compensators and peripheral devices.
 The expertise of our technical staff guarantees efficient and economical solutions which extend from single components to complex gripper systems or customer-specific special applications.  Due to our continued growth, we are seeking a highly skilled and motivated individual to complement our fast-paced team.
Job Description:

Coval offers a fast-paced work environment that fosters individual growth. We are looking for someone with technical aptitude and strong sales skills who can develop long term relationships with existing customers.

The Technical Inside Sales position at Coval is focused on maintaining goodwill and superior service levels to existing and new customers.  They are also responsible for supporting our Regional Sales Managers with selling a wider variety of engineered vacuum components and grippers for robotics and automated machinery. This position is responsible for: maintaining phone and email contact with existing customers, conveying technical and applications information about products, assisting customers with application solutions and buying decisions, creating quotations and letters to customers, learning and maintaining sales skills, accomplishing specific performance goals and other duties as assigned.   May require occasional travel for customer visits relating to complex applications.
 
 Qualifications:


Robotics or Pneumatics design/sales experience a PLUS!
Places primary importance on delivering superior customer service.
Team player who has the ability to develop and maintain strong working relationships.
Accomplishes department and organization goals by accepting ownership for accomplishing new and different requests; exploring opportunities to add value to job accomplishments.
Demonstrates talent at interacting effectively with all types of people, especially by phone.
An above average understanding of science and technology and can explain technical equipment in everyday terms.
Updates job knowledge by studying new product descriptions; participating in educational opportunities.  
Projects a professional and helpful image that inspires confidence and trust.
Supports the close of sales by addressing customer concerns, demonstrating empathy, and consistently moving the customer towards commitment.
PC proficient and familiar with MS WORD & EXCEL. Familiarity with a CRM and MRP program a plus.
Has experience developing solid relationships with multiple clients.
Receive and process quote and order requests from customers, field sales personnel and other sources via phone, fax, and email.
Quickly respond to customer inquiries pertaining to quotes, orders, expedites, follow-up, etc.
Active communication skills to work as a liaison between customers, factory principals, service and field sales personnel, and management.
Adequate presentation skills to participate in customer and distributor training as required.
Maintains a clean, organized and safe work environment.
Minimum of 3 years' experience in technical sales preferred.
Spanish Fluency REQUIRED!
 Benefits:
Coval offers a competitive compensation and benefits plan including:
Vacation & holiday pay
Health, Vision & dental insurance coverage
Retirement savings plan
Coval is an Equal Opportunity Employer
47,000.00 - 50,000.00 /year