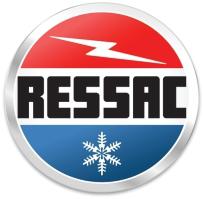 HVAC Installer at RESSAC
Sacramento, CA 94205
Job Description
RESSAC Climate Control is hiring a Lead Installation Technician in the Sacramento, CA area. This person is a technical expert in their field who helps coworkers solve technical problems and make better decisions while on the job. RESSAC is a commercial contractor servicing pharmacy, supermarket, retail, office, restaurant, and warehouse clients throughout California. The majority of our work is light commercial. Candidates with heavier commercial experience will be considered.
Job Responsibilities and Requirements Include
Inspecting potential jobs sites, managing the permitting process, fielding technical questions, auditing ongoing jobs, commissioning completed jobs, responding to warranty calls and performing the work of Installers as necessary. The Lead Installation Technician will also be responsible for providing technical support to installation crews over the phone and in person. Will serve as trainer to newly hired technicians. Will also support the Installation manager in the scheduling of jobs and their related resources including technicians, ladders, lifts, cranes, or any other equipment. A valid California driver's license and acceptable driving record required. Employment at RESSAC is subject to passing a drug test and background check.
At RESSAC we strive to be an industry leader. To best serve our customers, we believe our technicians need to be setup for success. RESSAC will provide you with:
The best tools to get the job done
Clear expectations for how to succeed
Streamlined digital work processes to keep you organized
A management team focused on supporting you
Qualifications:
10 years of field experience.
Safety minded attitude
Integrity and honesty in all your interactions
Organized and ability think systematically about how to work more efficiently every day
Available to work overtime and participate in a reasonable on call schedule
Are you comfortable working with technology like iPhones and computers
NATE certified or interested in becoming NATE certified.
Employment Contingent on Successful Completion of Background and Drug and Alcohol Screening
Then come join a winning team!
RESSAC has a very generous benefits package:
Above average wages for the light commercial trade
401k
Health care for you and your dependents, optional dental and vision
Flexible Spending Accounts
Company Paid Life Insurance policy with added Voluntary Plan
Up to 2 weeks of Accrued Sick Leave
Holiday Pay
Vacation Pay: 1 to 3 weeks based on tenure
Education Stipend Paid training
Fully stocked vehicle with all the necessary tools to perform your work including iPhone
24.19 - 32.54 /hour
HVAC Mechanic / Installer
What is this?