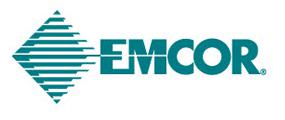 Insulator Mechanic at Emcor
Orlando, FL
About Us:
Mechanical Services of Central Florida, Inc., (MSI) is a wholly-owned subsidiary of EMCOR Group. Inc. EMCOR is the world's leading provider of mechanical and electrical construction and facilities services, including planning, consulting, and operations and maintenance. MSI designs, builds, operates and maintains commercial heating, ventilation and air conditioning systems that provide healthy, productive and efficient working environments. With over 320 of the region's most highly trained HVAC specialists and professionals, we have unmatched resources available to support the needs of our clients through every phase of their ownership cycle.
PRIMARY FUNCTION:
Covers boilers, pipes, tanks, and refrigeration units, with insulating materials, such as fiberglass, plastic, and magnesia to reduce loss or absorption of heat, prevent moisture condensation, and to deaden sound.
POSITIONS RESPONSIBILITES:


Wires prefabricated fiberglass covering around steam and hot water piping, using hand tools.


Trowels mastic or brushes cement on insulation to obtain smooth finish and covers piping with cloth. Trowels cement on wire netting to protect insulating material.


Fits thermoblock and magnesia-block insulation around insulating boilers, evaporators, and turbines.


Wires insulation on machinery and staples wire netting over insulation.


Wire cork on salt water, refrigeration, and air-conditioning piping and cements cloth over insulating material to obtain smooth finish.


Wires detachable covers on valves or fittings, using hand tools. Installs fiberglass, spun glass, foamglass, or calcium silacet on ventilation systems to deaden sound and prevent vibration.


Cuts sheets of insulation into sections, using handsaws and miter box. Fits and cements sections around fittings.


Covers gas piping of refrigeration or air-conditioning systems with molded plastic.


Fabricates detachable insulation for valves or similar fitting by measuring connections, preparing patterns cutting insulating cloth, stuffing cloth with amosite (plastic pipe covering), and metal jacketing.


Must be able to work all shifts as needed.


Must be able to be cleared to work at government and other secure jobsites.


QUALIFICATIONS:


Follow spoken or written instructions


Compare and see differences in the size, shape, and form of lines, figures, and objects and work to set standards


Select insulating materials and tools based on specifications


Use logical step-by-step procedures based upon accurate information to complete tasks


Visualize solid objects from flat drawing or pictures


Performs a variety of duties which may change often; and make judgements from experience or factual data.


Workers must be able to: See well (either naturally or with correction); Climb and maintain balance on ladders and scaffolds; Stoop, kneel, crouch, and crawl; Work in hot areas and in high places; Lift and carry objects weighing up to 50 pounds or more; Work easily and skillfully with hands and fingers to reach for, handle, and manipulate objects and materials.


The above description covers the principal duties and responsibilities of the job. The description shall not, however, be construed as a complete listing of all miscellaneous, incidental or similar duties which may be required from day to day.
#CB2
We offer our employees a competitive salary and comprehensive benefits package and are always looking for individuals with the talent and skills required to contribute to our continued growth and success. Equal Opportunity Employer