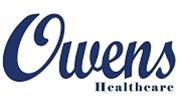 IT Technician at Owens Healthcare
Redding, CA 96001
IT Technician Opportunity!

Position Highlights
Owens Healthcare is looking for a motivated individual to help support our IT Department at our Corporate Office in Redding, CA. This position is full-time, Monday through Friday and will include benefits (medical, dental, vision, 401k, etc).
Essential Duties & Responsibilities
Troubleshoot software/hardware issues for employees regarding computers, printers, copiers, phones, etc
Perform hardware and software maintenance
Provide maintenance on VOIP telephone systems
Perform upgrades and repairs for Window-based computers
Assist IT Manager with projects and various administrative tasks as needed
Refer major hardware or software problems to vendors or technicians for service
Education, Qualifications & Skills
1-3 years of experience in PC support (hardware and software)
A + Certification for Computer Hardware
Strong customer service skills
Clean DMV Record
High School diploma or equivalent is required
Expertise in general PC troubleshooting with good logical troubleshooting skills in application functionality
Experience setting up, taking down and re-locating PC systems
Knowledge of Microsoft Systems and Applications
Excellent verbal, written and interpersonal communication skills
We understand that employees have lives and interests outside of the work place and family needs that are important. Our benefits package extends beyond the traditional health coverage. Our comprehensive benefits package offers health, security, and future planning as well as fun and activities for our employees and their families.
To apply for this position, please go to www.myowens.com and submit your online application.
96,799.00 - 124,240.00 /year
IT Auditor
What is this?