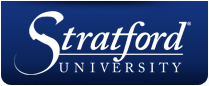 Librarian at Stratford University.
Baltimore, MD
Passion…Inspiration…Innovation…Do you live by those? If yes, read on...
The Librarian is responsible for the ongoing planning, supervision and management of the campus library and instructional resources, integrating these resources into all phases of the curriculum, and assisting students and faculty in the use of these resources.
Functions
Assist students and faculty in the use of the library collection, research materials,  technology, and area resources
 
Instruct students on a formal and informal basis in skills related to identifying and interpreting research information and communicating the content of research material in written and visual presentations
 
Continually develop, evaluate and maintain the library collection to meet the needs of students and faculty
 
Coordinate quarterly textbook distribution
 
Oversee library assistants in providing customer service, shelving of books and inventorying materials
 
Develop and maintain library publications, reports, and activities
 
Attend meetings and workshops related to personal professional development and further development of the library
 
Other duties as assigned
Qualifications
MLS - Master's degree in Library Science
Strong personal accountability and attention to detail orientation to meet daily, weekly, and quarterly assignments
 
Able to complete tasks independently with a very high quality of performance
 
High energy, outgoing personality and professional attitude
 
Committed to quality service to students, faculty, and staff
 
Understanding of inventory management and reconciliation of textbook orders
 
Good oral and written communication skills
 
Strong technology skills including familiarity with Microsoft Office programs
 
Good knowledge of: research process and library procedures, computer skills, current copyright law, Library of Congress classification system, use of electronic database