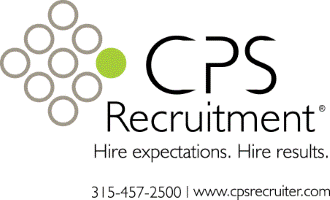 Licensed Practical Nurse (LPN) from CPS Recruitment
Syracuse, NY 13203
CPS Recruitment, Inc., is seeking full time LPN (Licensed Practical Nurse) candidates for a variety of Medical Office settings in the Syracuse area including:
family practice
pediatrics
specialty physician groups.
Most of these roles are Monday – Friday day time hours (some evenings/occasional weekend hours may be required – depending on the practice hours).
They are all team environments requiring strong commitment to quality patient care.
Qualifications:
LPN must be a team player, professional, and customer service oriented individual.
Proficient computer skills including prior experience with an EMR required.
Individual must also be professional, highly organized, have ability to multi-task and enjoy working in a very fast paced environment.
Able to work with diverse patient populations.

Requirements:
Minimum of 1 year experience within a medical office setting
Active and Current LPN license/certification for the state of NY
If interested, please contact one of our Healthcare Recruiters at healthcare@cpsrecruiter.com
or call us at (315) 457-2500
CPS Recruitment is an Equal Opportunity Employer.
18.00 - 24.00 /year
Dependent on Experience