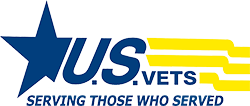 Licensed Therapist at United States Veterans Initiative, Inc.
Prescott, AZ 86305
Licensed Therapist
Full-time

Looking for a rewarding position? 

How would you like to serve those who served?

If you are looking for an opportunity to work for a great organization & make a difference, this is the job for you.  Come & join our winning team!

Benefits include Paid Vacation, Sick Time, Paid Holidays, Medical, Dental, Vision, and Company matching 401K.
This Licensed Therapist position reports directly to the Director of Behavioral Health and is responsible for providing a range of psychosocial services including community outreach, counseling (individual and group), and referral services as part of a multidisciplinary team for Veterans and service members who are experiencing homelessness.


ALL APPLICATIONS MUST BE COMPLETED IN ENTIRETY FOR FURTHER CONSIDERATION/LOCAL CANDIDATES ONLY


Responsibilities:
Provides clinical therapeutic services (i.e., engages, interviews, assesses, counsels, and educates) to veterans

Provides individual and group therapy to clients using evidence-based therapies, practices and protocols.

Establishes and maintains a professional therapeutic relationship with all clients and potential clients.

Develops initial and ongoing client treatment plans.

Provides direct clinical intervention services and crisis intervention services to clients in need.

Maintains confidential and complete client records to include electronic records management.

Transitions clients from the therapeutic relationship using clinically-based protocols.

Coordinates and collaborates client services with the VA and other community clinicians as appropriate.

Oversees curricula for all Clinical Treatment modality groups (substance abuse and mental health).

Follows proper clinical protocols on client referrals for needed services.
In conjunction with the Clinical Director is responsible for implementing and maintaining a therapeutic living environment at the site.

Ensures adherence to clinically-based protocols.

Maintains office hours that are conducive to client needs, and an office environment that is conducive to therapeutic effectiveness.

Ensures programmatic compliance with all State licensure requirements.

Ensures that all services are provided per grant requirements.

Performs other duties as required.




The ideal candidate must have a thorough understanding of:
Mental health counseling principles, crisis intervention, practices, and applications to include military cultural competency (e.g., PTSD, depression, anxiety, and substance abuse)

Psychosocial assessment modalities, principles, and practices

Networking, partnership building, outreach, and public speaking

Crisis intervention and disruptive behavior management (e.g., responding to threats of self-harm or hostility toward others)

Educational and vocational counseling principles, practices, and applications (e.g., employability and employment stability)

File documentation practices and electronic records management

Community resources

Federal regulations and policies (e.g., HIPAA, Privacy Acts, and professional ethics)

Maintains professional standards and demeanor, including the confidentiality of client data and other sensitive information.
A Master's degree in Psychology, Counseling, or a related human services field

Independent professional licensure in the state where the site is located which includes meeting state requirements for conducting Alcohol and Drug Counseling in the state and/or an additional license/certification in Alcohol and Drug Counseling

Experience in Medicaid approved assessments and Medicaid billing procedures (preferred)

Broad knowledge of and two years of direct clinical experience using evidence-based therapies, such as Cognitive Behavioral Therapy, Dialectical Behavior Therapy, Eye Movement Desensitization and Reprocessing, Seeking Safety, and Trauma-Informed Care.

Flexibility in scheduling

Valid driver's license required. Must meet company insurance requirements and complete a provided driver training course.

Ability to take direction, work independently and with a team

Knowledge/experience working with veterans (preferred)

Knowledge/experience working with homeless populations (preferred)
United States Veterans Initiative is a non-profit organization whose mission is the successful transition of military veterans and their families through the provision of housing, counseling, career development, and comprehensive support.

59,000 - 70,000 /year
Paid Vacation, Sick Time, Paid Holidays, Medical, Dental, Vision, and Company matching 401K