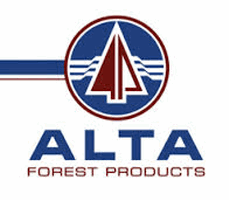 Maintenance Supervisor at Alta Forest Products LLC
Morton, WA 98356
Reports To:  VP of Operations/Corp Maintenance Manager
FLSA Status:  Exempt
Department:  Sawmill
Revision: 3-16-20
Alta Forest Products is an equal opportunity employer.  It considers all applicants without regard to race, color, national origin, religion or creed, gender, disability, marital status, familial status, age, sexual orientation and gender identity.
Summary: Develop and maintain operating procedures that meet Alta's standards and practices.  Assistmill maintenance managers in all activities of maintenance.Oversee implementation of corporate wide SMMS program that includes preventative maintenance, shared practice, corporate inventory and purchasing.  Develop cost saving strategies within Alta's maintenance program and communicate changes to the VP of Operation.    
Essential Duties and Responsibilities include the following.  Other duties may be assigned. 
Ensures mills meet production goal with the heightened level of product quality and safety standards.
Helps identify and plan modifications that will improve the efficiency and safety of the mill

.
Interfaces with others in the organization to ensure customer deadlines

are met

.
Coach and lead a diverse workforce

Develop and drive adherence to preventative maintenance procedures

Assist Managers with

all mechanical and electrical machinery troubleshooting, repair and installation

Understand the needs of the production team

s

and coordinate priorities for delivery of corrective maintenance

Follow up on recurring down time issues and work to eliminate them

Monitor and maintain mechanical spare parts and supplies inventories

th

rough SMMS

Ensure all pa

rts used are accounted for and inventory is properly stocked

Manages

purchasing to ensure that we are getting the correct parts and service, in a timely manner, at the most competitive price from our vendors

Help advance new components and technology into our operations

Take leadership of problem elimination. Strive to drive down to the root cause of problems and ensure solutions permanently eliminate problems

Implement and maintain continuous improvement throughout our organization

Support and back Alta management in decisions even if you do not support the vision.
Competency:
To perform the job successfully, an individual should demonstrate the following competencies:
Analytical - Synthesizes complex or diverse information; Designs work flows and procedures.
Design - Generates creative solutions.
Problem Solving - Identifies and resolves problems in a timely manner; Gathers and analyzes information skillfully; Works well in group problem solving situations; Uses reason even when dealing with emotional topics.
Technical Skills - Strives to continuously build knowledge and skills; Shares expertise with others.
Customer Service - Manages difficult or emotional customer situations; Responds promptly to customer needs; Meets commitments.
Interpersonal - Focuses on solving conflict, not blaming; Maintains confidentiality; Keeps emotions under control; Remains open to others' ideas and tries new things.
Oral Communication - Speaks clearly and persuasively in positive or negative situations; Listens and gets clarification.
Team Work - Gives and welcomes feedback; Contributes to building a positive team spirit; Able to build morale and group commitments to goals and objectives; Supports everyone's efforts to succeed; Recognizes accomplishments of other team members.
Written Communication - Writes clearly and informatively; Able to read and interpret written information.
Change Management - Builds commitment and overcomes resistance; Prepares and supports those affected by change.
Delegation - Delegates work assignments; Sets expectations and monitors delegated activities.
Leadership - Exhibits confidence in self and others; Inspires and motivates others to perform well; Inspires respect and trust; Accepts feedback from others; Gives appropriate recognition to others; Displays passion and optimism; Mobilizes others to fulfill the vision.
Managing People - Takes responsibility for subordinates' activities; Provides regular performance feedback; Improves processes, products and services.
Quality Management - Looks for ways to improve and promote quality; Demonstrates accuracy and thoroughness.
Visionary Leadership - Displays passion and optimism; Provides vision and inspiration to peers and subordinates.
Diversity - Shows respect and sensitivity for cultural differences; Promotes a harassment-free environment.
Ethics - Treats people with respect; Keeps commitments; Inspires the trust of others; Works with integrity and ethically; Upholds organizational values.
Organizational Support - Follows policies and procedures; Completes administrative tasks correctly and on time; Supports organization's goals and values.
Strategic Thinking - Understands organization's strengths & weaknesses; Adapts strategy to changing conditions.
Adaptability - Adapts to changes in the work environment; Able to deal with frequent change, delays, or unexpected events.
Attendance/Punctuality - Is consistently at work and on time; Ensures work responsibilities are covered when absent.
Dependability - Follows instructions, responds to management direction; Takes responsibility for own actions; Commits to long hours of work when necessary to reach goals; Completes tasks on time or notifies appropriate person with an alternate plan.
Initiative - Takes independent actions and calculated risks; Looks for and takes advantage of opportunities; Asks for and offers help when needed.
Innovation - Displays original thinking and creativity; Meets challenges with resourcefulness; Develops innovative approaches and ideas.
Judgment - Displays willingness to make decisions; Includes appropriate people in decision-making process.
Motivation - Sets and achieves challenging goals; Demonstrates persistence and overcomes obstacles.
Planning/Organizing - Prioritizes and plans work activities; Organizes or schedules other people and their tasks; Develops realistic action plans.
Professionalism - Approaches others in a tactful manner; Reacts well under pressure.
Quality - Demonstrates accuracy and thoroughness; Looks for ways to improve and promote quality; Applies feedback to improve performance.
Quantity - Meets productivity standards; Completes work in timely manner; Strives to increase productivity.
Safety and Security - Observes safety and security procedures; Determines appropriate action beyond guidelines; Reports potentially unsafe conditions; Uses equipment and materials properly.                                                       
Qualifications:
To perform this job successfully, an individual must be able to perform each essential duty satisfactorily. The requirements listed below are representative of the knowledge, skill, and/or ability required. Reasonable accommodations may be made to enable individuals with disabilities to perform the essential functions.
Education/Experience:
One year certificate from college or technical school; or three to six months related experience and/or training; or equivalent combination of education and experience.
Language Ability:
Ability to read and interpret documents such as safety rules, operating and maintenance instructions, and procedure manuals.  Ability to write routine reports and correspondence.  Ability to speak effectively before groups of customers or employees of organization.
Math Ability:
Ability to calculate figures and amounts such as discounts, interest, commissions, proportions, percentages, area, circumference, and volume. Ability to apply concepts of basic algebra and geometry.
Reasoning Ability:
Ability to solve practical problems and deal with a variety of concrete variables in situations where only limited standardization exists. Ability to interpret a variety of instructions furnished in written, oral, diagram, or schedule form.
Computer Skills:
To perform this job successfully, an individual should have knowledge of Word Processing software; Spreadsheet software and Payroll systems.
Certificates and Licenses:
PIT Certification.  CPR/First Aid Trained
Supervisory Responsibilities:
Directly supervises employees in the Sawmill. Carries out supervisory responsibilities in accordance with the organization's policies and applicable laws. Responsibilities include interviewing, hiring, and training employees; planning, assigning, and directing work; appraising performance; rewarding and disciplining employees; addressing complaints and resolving problems.
Work Environment:
The work environment characteristics described here are representative of those an employee encounters while performing the essential functions of this job. Reasonable accommodations may be made to enable individuals with disabilities to perform the essential functions.
While performing the duties of this job, the employee is regularly exposed to work near moving mechanical parts. The employee is frequently exposed to outdoor weather conditions. The employee is occasionally exposed to wet or humid conditions (non-weather);work in high, precarious places;fumes or airborne particles;toxic or caustic chemicals;risk of electrical shock and vibration.The noise level in the work environment is usually loud.
Physical Demands:
The physical demands described here are representative of those that must be met by an employee to successfully perform the essential functions of this job. Reasonable accommodations may be made to enable individuals with disabilities to perform the essential functions.
The employee must regularly lift and /or move up to 10 pounds, frequently lift and/or move up to 25 pounds and occasionally lift and/or move up to 100 pounds.Specific vision abilities required by this job include close vision, distance vision and depth perception.While performing the duties of this job, the employee is regularly required to stand; walk and reach with hands and arms. The employee is frequently required to use hands to finger, handle, or feel; climb or balance and talk or hear. The employee is occasionally required to sit and stoop, kneel, crouch, or crawl.