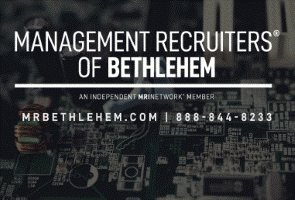 Maintenance Technician from Management Recruiters of Bethlehem, NC
Hickory, NC
Maintenance Tech (2nd Shift)
My client, located in Hickory, North Carolina, is currently searching for a Maintenance Technician (2nd Shift). This position is responsible for performing highly diversified duties to install, troubleshoot, repair and maintain production and facility equipment according to safety standards to ensure facilities are tidy and functional. The successful candidate will possess the following qualifications.
Qualifications:
Minimum high school diploma, Associate's degree or higher preferred
4+ years of Maintenance experience
Strong mechanical aptitude
Experience setting up lines
Plumbing/pump experience is a plus
Strong critical thinking and creative skills
Detail oriented and organized
Thorough working knowledge of facility equipment units, their usage, and safety procedures
Ability to manage time and responsibilities with minimal supervision
Lift and/or move up to 20 pounds.
Stand, walk, sit, climb, balance, stoop, kneel, crawl, or crouch.
Maintenance, safety, or manufacturing certifications a plus
Responsibilities:
Quality check equipment regularly to ensure everything is in working order
Install equipment, inspect and troubleshoot equipment
Collaborate with workers and other professionals
Report to a Facilities or Maintenance Manager for issues
If you are looking for a stable company that will offer you career advancement and meet the above requirements, please send your resume in Word format to alex@mrbethlehem.com. Interviews are being scheduled NOW.