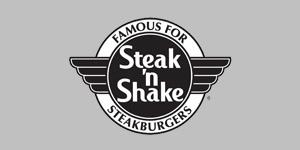 Manager - Cleveland-Store 489 (BOARDMAN, OH) at Steak-n-Shake
BOARDMAN, OH
Manager

Job Description
Summary Description: The Manager is a business partner accountable for leading the Restaurant Associate team to deliver Steak 'n Shake operational and financial standards on each scheduled shift as well as building a well cross trained staff within the Restaurant. The Manager is responsible for assessing Associates performance to identify opportunities and coach for improvement. This position has accountability on his/her shift for the correct delivery of Steak 'n Shake procedures, policies and specification which deliver the Steak 'n Shake Vision and Mission. The Manager will partner directly with his/her Restaurant and General Manager and will receive market level support from his/her Human Resource Manager and Field Training Manager / Coordinator to meet the business and strategic objectives of the organization.

Department: Operations - Restaurant

Reports to: General Manager

FLSA: Exempt

Direct reports: Trainers and all Restaurant Associates

1. RESPONSIBILITIES: Major functions/tasks performed in the job and the deliverable (report, product, output, etc.) produced.

Primary and On-Going Accountabilities

Effectively Manage a Steak 'n Shake Shift
Execute the 14 point walk and correct deficiencies as they arise
Ensure food is properly stored and prepared in compliance with food safety regulations and recipe adherence
Ensure service, hospitality, accuracy and speed standards are achieved
Maintain strict compliance with health, safety and security standards and procedures
Train, coach and inspire Associates to deliver exceptional service, food quality and environment to the Guest
Demonstrate effective decision making and problem solving skills that support the Steak 'n Shake Principles; Relentless Pursuit of Excellence, Exceed Guest Expectations, Golden Rule, Economic Objective and Entrepreneurial Approach
Ensure accurate adherence to all State and Federal laws on assigned shift
Lead by Example
Has authority to discipline associates
Recommends associates for hiring and promotion
Recommends associates for termination
Specific Duties and Responsibilities

Customer Satisfaction: Build the business by relentlessly pursuing excellence and growing customer traffic over prior year:

Effectively interact with Guests to ensure we exceed their expectations with the highest quality food and great service

Sales Growth, TCT

Immediately address Guest concerns and complaints utilizing the Steak 'n Shake Guest Recovery Model - L.E.A.R.N.

Sales Growth, TCT

Ensure Guests are immediately recognized upon entering and as they are leaving

Sales Growth, TCT

Motivate all Associates to deliver great hospitality toward all guests and other associates

Documentation, Coaching form, Sales Growth, TCT

Create a positive team environment with knowledgeable associates working together through shift huddles and ongoing coaching

Documentation, Sales Growth, TCT

Brand Protection: Operate in accordance with our Quality, Service and Cleanliness Standards(QSC) and other food safety practices, delighting our Guest with outstanding fresh food and training our valuable people:

Execute the 14 point walk using the "Three in One" toolâ€" ensuring the facility is radiant, the associates are motivated, the stations are appropriately set up / re- stocked for meal periods, and constantly moving through the restaurant coaching and directing associates to ensure quality adherence and speed standards are achieved

Documentation, QSC, TCT, Food Safety, Sales Growth

Interview candidates using the Select the Best 1st interview guide and recommend
enthusiastic / Guest centric candidates to the General Manager for employment

Select the Best

Ensure associates are effectively trained using the Steak 'n Shake training program, Earning your Wings

Documentation, Training Scorecard

Monitor food quality, portioning and speed from the EXPO window and resolve any issues immediately

Documentation, Food Safety Audits, QSC

Assign and verify all side work is accurately and efficiently completed

QSC

Verify accurate adherence to the Prep and Pull and cooling charts as well as complete HACCP and line checks on assigned shift ensuring food quality and quantity

Documentation, Food Safety Audits, QSC

Ensure all Safety procedures and policies are strictly adhered to

Documentation, QSC, Accident Claims
Financial Growth: Manage profitable shifts focused on delighting our guests, increasing quality and reducing prices:

Deploy associates appropriately as planned on the Schedule and Line up sheets

Labor Control, Sales Growth, TCT, FRR

Ensure appropriate staffing levels of well-trained associates on assigned shifts

Sales Growth, TCT, Comps.

Complete shift and daily inventory and accurately post into the back office POS System

Food Cost, FRR

Check in food delivery, ensure proper storage and post-delivery into the POS.

Food Cost, FRR

Complete food order based on commissary order guide and enter into ordering system

Food Cost, Inventory levels, FRR

Maintain strict adherence to cash handling and banking policies and procedures

COC, FRR

Complete shift tools and administration duties as assigned by General Manager

Documentation
2. SCOPE: Impact this job has in terms of decisions made, direction given, number of employees supervised, size of organization managed or supported, impact of errors, dollars, etc.e
Enforce procedures, training and other programs designed by Steak 'n Shake to effectively deliver the Steak 'n Shake Vision, Mission and Principles
Interviews and recommends Associates candidates to GM within compliance of FLSA and Steak 'n Shake guidelines
Takes responsibility for shift financial results
Serves as a resource to colleagues and as a mentor to less experienced Managers
Actively manages the shift ensuring speed and food quality
3. KEY RELATIONSHIPS: Positionâ€@trade;s key contacts and relationships.
Primary:
Restaurant Associates
Restaurant Trainers
Restaurant Management
District Manager
Secondary:
Division President
Field Training Manager
Human Resource Manager
4. REQUIREMENTS: Typical minimum requirements to perform the job.
High School graduate or equivalent education preferred
Certified in all Service and Production Stations at Steak 'n Shake or equivalent experience
ServSafe certified
Understand Steak 'n Shake policies, procedures, state laws, Health codes, Safe food handling and Sanitation procedures
Positive, motivating communication skills
Strong organization and time management skills
Strong coaching and mentoring skills
Flexible and adaptable to changing circumstances
Ability to read, write, perform mathematical calculations and analyze data
Demonstrate key principles: Golden Rule, Relentless pursuit of Excellence, Exceeding guest expectations, Economic objective, Entrepreneurial approach
Able to work in excess of 50 hours per week while standing, walking and stretching
Able to lift, carry, push and pull 30 lbs
Able to perform any task performed by a service or production associate
Able to see across the restaurant to monitor and oversee the operation
Able to legally operate a motor vehicle
Able to hear, understand and professionally respond to guest and employee inquiries, comments and concerns
5. KEY PERFORMANCE INDICATORS: Key indicators to be used to measure job performance.
Field Results Report
Every Store Perfect measurements
Labor Management System
Food Management System
Effective working relationship with Above Store Leaders, Restaurant Management, colleagues and direct reports
6. CAREER PATH: Logical positions along the career path, vertical and/or lateral.
Field Training Coordinator
Restaurant Manager
Corporate office support Coordinator