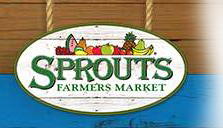 Manager, Distribution Center at Sprouts
Glendale, AZ 85301
Under general supervision from the Director of Distribution Center, the DC Manager is responsible for the planning of the weekly operations. They must work closely with the buying staff to make sure enough space is available for upcoming ad product and proper temperature storage is open. Planning for a safe working environment by creating and implementing sound management practices. Prepares and monitors distribution center reports, records and documentation to determine necessary changes for overall department improvement and efficiency. This position requires the planning of workloads that each supervisor under their jurisdiction will be assigned.
Promotes and maintains a positive work environment that adheres to Sprouts Core Values

Motivates, organizes and encourages teamwork to help meet productivity targets

Communicates with various company personnel, vendors and other customers

Responds to issues and concerns in a timely manner by email, fax, telephone, etc.

Directs dispatching to ensure timely and accurate scheduling of shipments

Coordinates inter-company transfer of product for store deliveries

Coordinates any secondary deliveries due to any shortages or mistakes on original scheduled delivery

Directs receiving to ensure proper count and physical inspection of merchandise by the quality control Department; manages proper distribution of product

Ensures stock is properly rotated according to Sprouts' standards

Insuring the proper maintenance of all distribution center equipment such as forklifts, refrigeration system, etc.

Makes sure all products are stored in the correct condition and temperature

Responsible for maintaining the distribution center is in full compliance with all Federal, State and local regulatory safety, labor, worker's comp and health requirements ensuring the health, safety, cleanliness and security of the work environment

Responsible for controlling labor cost and for minimizing shrink. Maintains operating budget related to freight, repairs & maintenance and other costs

Directs employee relations issues for the distribution center, hiring, training, motivating, conduct performance reviews, conflict resolution and discipline in concert with Human Resources Department

Fulfilling objectives and directions from the corporate office

Overseeing metrics on daily, weekly and monthly as needed
Bachelor Degree in Operations Management, Logistics, Business, Supply Chain or related field with a minimum of five (5) years of progressive distribution management experience

Experience in computerized distribution and transportation management systems

Proven experience in developing and managing annual operating plans (P&L)

Be able to implement change management by driving, influencing and inspiring employees at all levels

Must have good leadership skills, verbal and written communication skills

Possess effective time management, presentation, analytical, and problem-solving skills

Must be resourceful and effective at building partnerships in and outside of the company, be able to use all resources to effectively solve problems

Must have strong computer skills in MS Office Applications

Be able to multi-task, set priorities, pay attention to detail and maintain confidentiality

Must be able to provide and receive constructive feedback

Able to work in a fast paced environment while working within strict time frames and deadlines

Working with WMS and ERP systems

Knowledge of all applicable Federal, State, Local laws and regulations that are specific to a distribution center operation
Physical Requirements
This position will work in a distribution center. Typically, this environment is subject to extreme temperature changes ranging from 34-55 degrees, moisture, noise, odors, and moving equipment

Operating forklifts or pallet jacks on occasion

Lifting, pushing, pulling, and/or carrying up to 75 lbs.
Grow with us!
If you have a passion for inspiring people and a flair for fresh food, consider applying for a job at Sprouts! With a focus on customer service, our neighborhood grocery stores offer high-quality, farm fresh produce, natural meats, plenty of scoop-your-own bulk goods and much more in a fun, friendly, old-fashioned farmer's market setting.  Come grow your career in healthy living with a fast-paced, rapidly growing company and teams that pride themselves on empowering others along their journey.  
The above statements are intended to describe the general nature and level of the work being performed by people assigned to this work. This is not an exhaustive list of all duties, responsibilities, and requirements. Sprouts' management reserves the right to amend and change duties, responsibilities, and requirements to meet business and organizational needs as necessary. 
California Residents: We collect information in accordance with California law, please see here for more information.