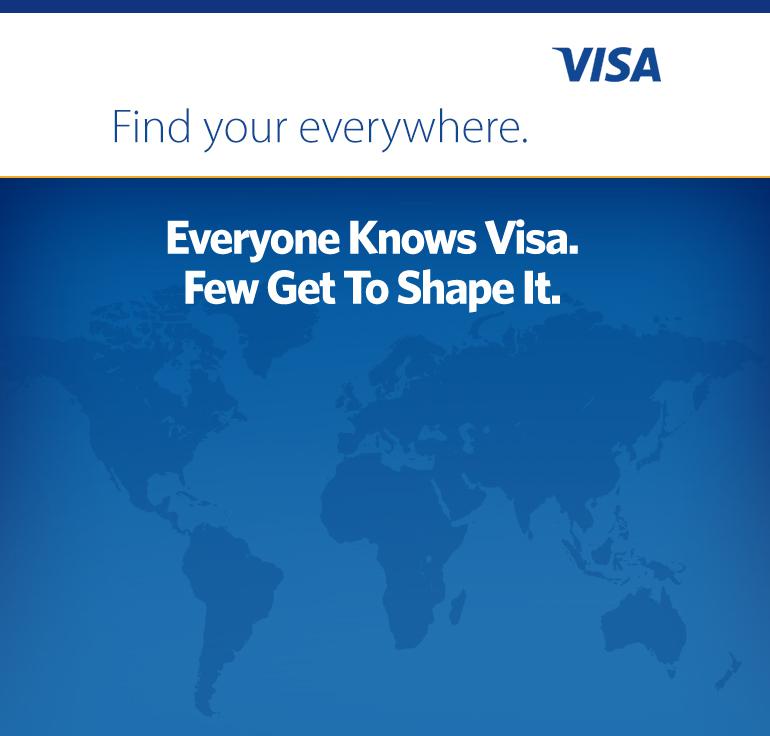 Marketing Analytics CXM & Client Marketing Director at Visa, Inc.
Miami, FL
Company Description
As the world's leader in digital payments technology, Visa's mission is to connect the world through the most creative, reliable and secure payment network - enabling individuals, businesses, and economies to thrive. Our advanced global processing network, VisaNet, provides secure and reliable payments around the world, and is capable of handling more than 65,000 transaction messages a second. The company's dedication to innovation drives the rapid growth of connected commerce on any device, and fuels the dream of a cashless future for everyone, everywhere. As the world moves from analog to digital, Visa is applying our brand, products, people, network and scale to reshape the future of commerce.
At Visa, your individuality fits right in. Working here gives you an opportunity to impact the world, invest in your career growth, and be part of an inclusive and diverse workplace. We are a global team of disruptors, trailblazers, innovators and risk-takers who are helping drive economic growth in even the most remote parts of the world, creatively moving the industry forward, and doing meaningful work that brings financial literacy and digital commerce to millions of unbanked and underserved consumers.
You're an Individual. We're the team for you. Together, let's transform the way the world pays.
Job Description
This role is responsible to build strategies and identify insights via advance marketing analytics for the LAC Region. If you are good with analysis, models and can tell a solid story using data; this could be the right position for you.
Lead a team of analysts within CXM/Client Marketing function, including project oversight, coaching and professional development

Work with internal/external clients to understand their strategic business questions and lead project scoping/design and execution to answer those questions by leveraging Visas data

Lead other tasks on R&D, data governance, system infrastructure, analytics tool evaluation, and other cross team functions, on an as-needed basis

Ability to inspire highest level of quality/rigor/thought leadership in reports & data analysis

Guide team in development of actionable solutions and creation of deliverables that effectively communicate the findings and recommendations

Produce insights and analyses to improve marketing performance, drive understanding of issues and provide strategic recommendations

Make recommendations and build use cases on new sources of value by addressing the biggest gaps in relation to changing consumer behavior and maximizing revenue potential.

Evangelize consumer-centric analytics approaches and data-driven decision-making culture through internal training, documentation and by leading sharing sessions across the organization.

Utilize Hadoop, and related query engines, such as Hive and Impala, to perform advanced data mining.

Research industry metrics and business context and bring this context to bear in analyses

Find opportunities to create and automate repeatable analyses or build self-service tools for business users

Direct the execution of medium to large analytic projects based on business requirements and desired business outcomes.

Define detailed analytic scope and methodology, and create architecture plans for data assets

Facilitate self-serve analysis to field marketers to enable independent everyday business decisions

Develop experiments to optimize initiatives aimed at influencing usage behavior and engagement

Provide rigor to the end to end analytical process to ensure accurate data goes in and out with effective analytical strategies

Engage and collaborate with the local and hub marketing teams on an on-going basis

Partner with peers in other functional areas (e.g., Products, Merchants, Sales, VCA, Innovation) and across global/regional teams to execute projects in ways that leverage the breadth and depth of Visas resources
Qualifications
Bachelors or Masters Degree in a quantitative field such as Statistics, Mathematics, Econometrics, Computer Science or Operations Research.

8-10 years of experience with an Advanced Degree (e.g. Masters, MBA, JD, MD)

Fluent in English and Spanish, Portuguese is a plus
12-15+ years of professional experience in analytics and CRM

Minimum of 7+ years of analytical experience in applying solutions to business problems in relevant fields such as analytics, CRM, or other data-driven functions

Extensive experience and story-telling skills in presenting ideas and analysis to various audience levels

Results oriented and strong business acumen to orient data analysis to business needs

Strategic thinker

Expert knowledge of databases and engineering concepts with hands on experience with one or more data analytics/programming tools such as SAS/Hive/R/SQL/Python

Knowledge of big data engineering stack including Hadoop, Spark, Kafka and other related components

High level of competence in Excel and PowerPoint

Solid competence in analytics and data management with vast experience in application of statistical modeling and techniques, decision trees, A/B testing

Experience with data visualization and business intelligence tools like Tableau, MicroStrategy, or other programs

Demonstrated leadership and collaboration competencies

Team player, self-motivated, results oriented and able to handle numerous projects concurrently

Experimental mindset, marketing, technology and digitally curious
Additional Information
This position requires the incumbent to travel for work 10% of the time
Physical Requirements

This position will be performed in an office setting. The position will require the incumbent to sit and stand at a desk, communicate in person and by telephone, frequently operate standard office equipment, such as telephones and computers, reach with hands and arms, and bend or lift up to 25 pounds.
Visa is an EEO Employer. Qualified applicants will receive consideration for employment without regard to race, color, religion, sex, national origin, sexual orientation, gender identity, disability or protected veteran status. Visa will also consider for employment qualified applicants with criminal histories in a manner consistent with EEOC guidelines and applicable local law.