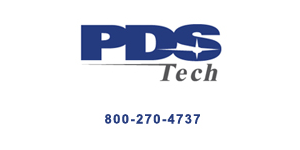 Material Handler- DFW Warehouse- First Shift at PDS Tech, Inc
Grapevine, TX 76099
PDS Tech Inc. is hiring a Material Handler, in Grapevine, TX.
Primary Position Responsibilities:
Receiving: 25%
Receive all vendor purchase orders and ensure number of cartons match the Airway Bill or Bill Of Lading.

Check and receive purchase orders into SAP, bag and label as necessary and match corresponding goods receipt document to parts.
Stocking: 25%
Stock parts using hand held scanner in accordance with warehouse procedures.
Picking: 25%
Pick delivery notes in order of priority using hand held scanner in accordance with warehouse procedure.
Shipping: 25%
Pack shipments both physically and systematically in order of priority in SAP in accordance with warehouse procedures.

Ship material by priority for customer requirements in accordance with warehouse procedures.
Position Requirements Education:
High school education or equivalent.
Experience:
Requires a minimum of two years-related warehouse experience, prior SAP experience preferred.
Licensure/Certifications:
Preferred: Hazardous Shipping Certification for both IATA and DOT.
Knowledge, Skills, Demonstrated Capabilities:
Effective communication skills, both verbal and written.

Good customer service skills.

Must be detail oriented.
Communication Skills (Spoken, Written, Influencing, Proficiency in Other Languages):
Requires ability to communicate effectively verbally and in written form in English.
Technical Systems Proficiency:
Requires use of computer SAP experience preferred.
Citizenship:
US Citizen or Permanent Resident Alien.
Physical Requirements:
Onsite: 100% of time that this position must be worked onsite at the company's location.

Vision: able to see and read computer screen and other electronic equipment with screens, able to read documents and reports.

Hearing: able to hear to participate in conversations in person and via teleconference or phone and to hear sounds including safety warnings or alarms.

Speaking: able to speak in conversations and meetings, deliver information and participate in communications along with written correspondence daily.

Equipment Operation (personal computer, telephone, copies, fax machine, and related office equipment and using electronic identification card to enter building floors and internal doors): able to operate most office and personal electronic equipment.

Carrying: able to carry documents, electronic equipment up to 30 lbs.

Lifting: able to lift documents, electronic equipment up to 30 lbs.

Pushing / Pulling: able to push and pull small office furniture and some equipment and tools.

Sitting: able to sit for extended periods of time at desk, in meetings, working on computer.

Squatting / Kneeling: able to squat or kneel to retrieve or replace items stored on low shelving.

Standing: able to stand for discussions in offices or on production floor.

Walking (include routine walking such as to a shared printer to retrieve documents): able to walk through office and production areas including uneven surfaces.
All qualified applicants will receive consideration for employment without regard to race, color, sex, sexual orientation, gender identity, religion, national origin, disability, veteran status, age, marital status, pregnancy, genetic information, or other legally protected status.