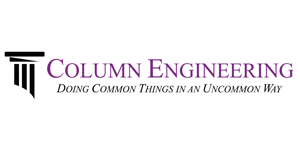 Mechanical Engineer - Plastics/Molding at Column Engineering
Elkhart, IN 46514
Job/Position Summary
Responsible for providing technical product design expertise to the new product development and launch function. This position will also be responsible for product design engineering and/or analysis support of product series in development and currently in production phase.

Major Areas of Responsibility
Create and maintain product designs in CAD.

Provide design and development expertise from new concept idea to production implementation, including but not limited to design stack up analysis, design for manufacturability, design for injection molding, mechanics of materials, spring fatigue predictions, incorporation of standardized practice [including design guidelines], static & dynamic component relationship analysis, and design robustness to customer specification.

Apply a principled approach to design engineering by creating and utilizing functional tools such as FMEA, DFMA, design guidelines, Stack-up spreadsheets, GD&T, FEA, Moldflow analysis and other customer specific tools to guide design decisions.

Lead cross functional teams to ensure design engineering activities are completed per project schedule.

Communicate with customers, suppliers and development teams. Typical design details to be communicated include design for performance specification compliance, material selection, fatigue analysis and Test-Until-Failure behavior.

Support mature product improvement efforts for global products.

Mentor less experienced engineers, designers or analysts.

Utilize PLM system to manage design data and communicate the data throughout the global organization.
Required Knowledge, Skills and Abilities
Self-motivated and results oriented, proactive with outstanding planning and follow-up skills.

Proficient in Parametric Solid Modeling – preferably in Solid Edge.

Demonstrated ability to theoretically/mathematically analyze mechanical systems

Ability to communicate and write effectively resulting in a clear understanding of the issues.

Ability to lead effective communication internally as well as with customers and suppliers.

General knowledge and understanding of industry standards and practices

(

e.g., Statistical analysis, ISO 9001, TS-16949/ IATF-16949, etc.)

Use of problem-solving tools such as Ishakawa diagrams, Fault Tree Analysis, 5-why analysis, 8-D, etc.

Capable of managing and prioritizing multiple projects/tasks.

Knowledgeable in molded part design and stamped part design.
Education and Experience
Technical Bachelor's Degree required, BSME, MSME preferred.

4+ years of experience in a technical field required, with 3+ years of plastics/molding experience preferred.

Experience with Japanese OEMs and/or automotive industry is preferred.