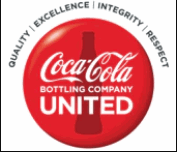 Merchandiser - Large Store Trainee 1 at Coca Cola Bottling Company United, Inc.
Chattanooga, TN 37422
Division: Tennessee Valley 
Department : Chattanooga Sales Distribution 
Work Schedule:  Wednesday through Sunday. Off days vary. 5:00 am to completion 
Join a winning team representing the #1 trademark in the world!
About us:
Privately owned and operated with 100+ years of historical strength and stability
Dedicated to supporting internal career growth through on job training, learning and opportunity for career advancement
Excellent Total Value Benefits Package to include:
Two weeks paid vacation within first year
Comprehensive Medical Preferred Provider Plan ($35 physical copay; $15 Teladoc copay)
Dental, vision, flex spending
Employee Assistance Program
Company paid life insurance ($50,000)
Additional optional insurance (accident, critical illness, universal life, home & auto)
Paid maternity & paternity leave
Paid holiday & sick time
401(k) match (50% on first 6%; plus, an additional annual match of up to 3%)
Exclusive employee discounts (cell phone, event tickets, gym membership, car buying, hotels, car rentals, technology needs and much more)
Paid weekly
Fast paced environment promotes a healthy lifestyle
For qualified candidates we offer an amazing CDL Tuition Program reimbursable up to $5250 for CDL school tuition – ask your Recruiter for details
Job Summary Description
The Merchandiser – Large Store Trainee 1 duties and responsibilities include, but are not limited to, building displays, replenishing inventory on the customer's shelves, racks, and cold equipment.
Roles and Responsibilities
Ensure proper care of equipment, and Company/customer assets daily
Rotate and replenish products in customer outlet, including displays, racks, and all Coca-Cola and brand partner equipment
Maintain product integrity in every account; neatly stacked, condensed, and rotated backstock, clean coolers and racks to Company standards
Organization and collection of any breakage or out of date product, including empty shells and pallets
Provides feedback and recommendations to leadership on competitive threats and business opportunities as they arise
Works in partnership with the Sales Supervisor and Delivery Driver for outlet to execute the picture of success
Establish and maintain positive relationships with all customers, as well as providing superior customer service
Ability to work with all functional team members
Requirements
Good work record
Good attendance
Dependable with a good attitude
Good safety record
The ability to receive and follow instructions
The ability to work well and get along with other employees and/or customers
In the event of drivers, to have a good MVR
Must be able to pass the Company physical
Must have a neat appearance
Must be able to pass a DOT physical
Must be able to pass company driving tests before and after training
Sales Department Employees must possess a driver's license with the classification required to operate the equipment mandated by the specific sales position
Non-Sales Department Employees must have passed the state written test and must pass the state driving test required for the specific sales position within 30 days from reporting to the job.
Sales experience desired
Self-motivated, aggressive attitude – high achiever
Able to communicate with customers
Knowledge of general trade math demonstrated by the passing of a math skills test
Ability to handle and exchange money accurately
CCBCU is an Equal Opportunity Employer Minorities/Women/Veterans/Disabled.