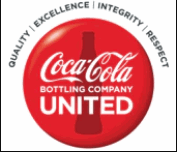 Merchandiser - Large Store Trainee 2 at Coca Cola Bottling Company United, Inc.
Chattanooga, TN 37421
Division: Tennessee Valley 
Department : Chattanooga Sales Distribution 
Work Schedule: 5 Day Flex - 5:00am Until Completion 
Merchandiser – Large Store Trainee 2

Posting Date 8/25/2020 Closing Date: 8/27/2020

Region: Central Region
Division: Tennessee Valley Division
Sales Center: Chattanooga
Department: Sales
Shift: Day Shift
Summary Job Statement
The Merchandiser – Large Store Trainee 2 will deliver, stock and merchandise shelves, racks, and displays in assigned accounts by performing the following duties.
Responsibilities
Responsible for merchandising all product inside the outlet to company standards.
Sets up merchandise and sales promotion displays.
Unloads and transports product from the route truck to retail outlets.
Responsible for safe guarding company assets.
Maintains rapport with customers.
Communicates any store level opportunity to appropriate team members.
Complies with DOT rules for driving purposes
Other duties that may be assigned.
Minimum Qualifications/Requirements
High school diploma or general education degree (GED); or 1-3 months related experience and/or training; or equivalent combination of education and experience.
Ability to read and comprehend simple instructions, short correspondence, and memos. Ability to write simple correspondence. Ability to effectively present information in one-on-one and small group situations to customers, clients, and other employees of the organization.
Ability to add, subtract, multiply, and divide in all units of measure, using whole numbers, common fractions, and decimals. Ability to compute rate, ratio, and percent and to draw and interpret bar graphs.
Ability to apply common sense understanding to carry out detailed but uninvolved written or oral instructions. Ability to deal with problems involving a few concrete variables in standardized situations.
Good work record and good attendance.
Dependable with a good attitude and good safety record.
The ability to receive and follow instructions.
The ability to work well and get along with other employees and/or customers.
In the event of drivers, to have good MVR
Must be able to pass the company physical
Must have neat appearance
Must be able to Read and Speak English.
Must have a Class A CDL or Permit, good driving record and in compliance with CCBCU fleet policy.
Must be at least age 21.
Additional Comments

Successful candidates with our company must pass a drug screen and background check. (MVR/DOT Physical, if applicable)
Coca-Cola Bottling Company UNITED, Inc. "An EEO/AAP Employer (M/F/D/V)"
New hires must have completed their 90 day probationary period. Transferred employees must remain in their current position for a minimum of six (6) months before applying. A good attendance, discipline and safety record is required.
If you are interested in this position, please log onto your Employee Portal and apply through SuccessFactors. This is a Bargaining Unit position. Employees on off shifts may call HR and declare their interest in the position however they must still apply through SuccessFactors as soon as possible.
This job will remain posted until 11:59 PM on Thursday, August 27, 2020.
CCBCU is an Equal Opportunity Employer Minorities/Women/Veterans/Disabled.