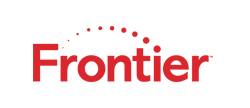 Mgr, Marketing Alt Chnl Sales at Frontier Communications Corporation
LONG BEACH, CA
Frontier® Communications provides communications services to urban, suburban, and rural communities in 25 states. Frontier offers a variety of services to residential customers over its FiOS® and Vantage™ fiber-optic and copper networks, including video, high-speed internet, advanced voice, and Frontier Secure® digital protection solutions. Frontier Business™ offers communications solutions to small, medium, and enterprise businesses.


Responsible for Commercial Alternate Channel Sales, including but not limited to:
 Growing the revenue base of Frontier's Commercial Alternate Channels partner group
 Development of territory Commercial Alternate Channel strategies
 Identification of new Alternate Channel sales and provisioning partners
Managing the various Commercial Channel parties, i.e. inter-dept. collaboration
Supporting the needs of the territory, expanding sales within the territory
Leveraging and developing consistent national channel processes, as required
Summary of Position:
Develop sales strategies and partnerships that drive Commercial sales and revenue withinassigned territory. This position is directly responsible for driving growth in this area of the business. This position will direct segmented marketing for the agent channel in the assigned
territory.
Responsibilities:
 Work with sub agents in assigned territory to bring new business to Frontier.
Develop and execute Commercial Alternate Channel strategies to drive revenue for Value Added Resellers/Agent Partner
Sales Aggregators
Commercial Distribution Partners
Work with Master Agents as needed to support new business acquisition within assigned territory
Direct all projects within timelines (inception to completion)
Manage and leverage organizational resources to fulfill Alternate Channel support and sales needs
Create Alternate Channel programs and processes that creatively support the overall market share and financial goals.
Coordinate with Frontier Legal regarding any necessary exception processes
Coordinate with Regional Marketing team strategies
Manage an annual budget
Lead Alternate Channel support personnel as needed to ensure favorable results for Frontier
Job Requirements:

 Extensive agent sales experience (minimum of 10 years) with at least 5 years in a management role in the Telecommunications industry or a high-tech industry preferred

Excellent communication skills - strong written (including editing) and verbalcommunication skills 
Ability to perform as a strategic thinker as well as a tactical performer

 Previous experience leading diverse team of individuals and creating an environment that encourages creativity and excitement while producing consistently strong results
Must have success in leading a team or teams towards common goals that result in revenue generation
Bachelor of Science degree in marketing or business required; MBA preferred.
Ability to travel as needed; heavy travel required (50%+) for new partner recruiting,training, relationship development
Must have Valid Driver License and a clean Driver's record