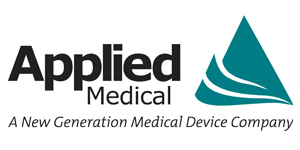 Microbiology Research Scientist at Applied Medical
Rancho Santa Margarita, CA
_________________________________________________________________________________
Applied Medical is dedicated to providing innovative products, programs and solutions that meet clinical needs and improve patient outcomes. As a new generation medical device company, Applied is equally committed to improving the affordability and accessibility of high-quality healthcare. Applied's team members enjoy a dynamic, team-focused environment that allows opportunity for growth and choice in individual career paths through skills development, training and advanced business knowledge.  If you would like to be a part of a company making a significant and sustainable impact on healthcare, then Applied Medical is the place for you.
Position Description
We seek a highly motivated Microbiology Research Scientist to join a dynamic Research and Development team engaged in microbiology research. The candidate will report to Scientist or Manager and be responsible to conduct various research projects for applications in medical device manufacturing and product development.
The candidate should be a highly motivated, hands-on experimentalist who thrives in a collaborative, multidisciplinary environment. Emphasis is on the ability to successfully perform under supervision and interact well in a team environment.
The ideal candidate will have an ability to work well in a fast-pace and collaborating environment, learn and excel new techniques in a timely manner and maintain positive enthusiastic attitude.
Primary Duties and Responsibilities:
Work with various bacterial strains
Work in BSL-2, and perform high-throughput screening assay
Utilize bacteriological techniques in aseptic environment, i.e. agar plating, liquid media inoculation, and colony forming unit (CFU) counting
Utilize bacterial cloning, bacterial colony screening, Western blot, and cell-based assays to study bacterial virulence
Provide critical analysis of data, write reports, and discuss data with the team in a timely, thorough, and coherent manner
Collaborate with other scientists to design, and perform bacteria/ cell-based experiments
Detail and well-organize lab notes, and protocols
Manage laboratory database including bacteria strains, and inventory
Conduct/coordinate the installation/repair/maintenance of laboratory equipment. Coordinate to manage lab inventory
Implement appropriate lab safety practices
Perform other related duties as assigned
Position Requirements
The following skills and attributes are required:
A degree in Microbiology or related majors: B.S. degree with 3 years + of laboratory research experience, M.S. degree with 2 years + of laboratory research experience, or Ph.D with laboratory research experience
Experienced with growing and maintaining various types of bacteria.
Good at aseptic technique, experienced with BSL-2
Experienced with fundamental bacteriological techniques – making agar plate, culture inoculation, stock maintenance, CFU counting
Experienced with Gram-staining, microscopy; and minimal inhibitory concentration (MIC)
Experienced with standard laboratory equipment, i.e. biosafety cabinet, autoclave, incubator, centrifuge, and micropipettes
Preferred
The following skills and attributes are preferred: 
Knowledge of bacterial cloning and colony screening
Knowledge of statistical analysis
Appropriate publications
Benefits
Training and mentorship with ongoing learning and development courses
On-campus wellness activities
Comprehensive medical and dental coverage
Education reimbursement program
401(k) program with employer match
Generous vacation accrual and paid holiday schedule