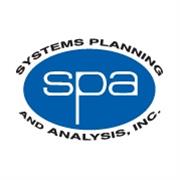 Military Operations Analyst/ Navy at Systems Planning and Analysis
Alexandria, VA 22311
The Cross Domain Warfare Analysis Group within SPA supports the Navy, DARPA, and other military organizations. CDAG analytic teams conduct objective capability assessments, technology evaluations, and strategic planning that integrate the technical, operational, programmatic, policy, experimentation, and business challenges associated with the delivery of new and innovative technologies. This work involves assessments of new weapons capabilities, unmanned systems, autonomous/AI informed military decision aids, and a variety of broad Navy warfighting issues. CDAG analysts use a variety of SPA proprietary and industry standard tools to create simulations and analytic assessments across the spectrum of modeling and simulation from broad campaign level warfighting simulations to more detailed capability specific modeling. This diversity of analytic tools and approaches supports the delivery of mature, turnkey products that reflect all of the factors important to decision makers. Our clients include Flag Officers, Senior Executives, and others who require robustly integrated support.
CDAG delivers:
• Quantitative and qualitative modeling and analysis combined with extensive maritime operational and technical experience to develop integrated solutions to deterrence and warfighting challenges.
• Cost-effective platform, mission, payload, and operating strategies to address capability gaps and exploit opportunities to create asymmetric cross-domain effects.
• Expert capability, technology, policy, and business case assessments; operational mission analyses; integrated warfare assessments; requirements development; technology transition management; and program support.
Study Navy force capabilities and operational concepts, and assist with developing and furthering future capabilities.  Utilize research, analysis, modeling, and other approaches to provide CDAG's clients with timely and objective information to enable decision-making regarding future USW force capabilities and evolving operational concepts.
• Bachelor's degree preferably in Engineering, Computer Science, National Security Studies, or Military History.
• 3-5 years of relevant Navy experience.
• Previous experience as a nuclear-trained submarine or surface warfare officer.
• Possess excellent communications skills, both written and verbal, including the ability to summarize and communicate complex ideas and analytical findings to a variety of stakeholder audiences.
• Proficient in the use of Microsoft Office produces, including Word, PowerPoint, and Excel.
• Must be effective and comfortable working both independently and in a collaborative group environment.
• Active security clearance.
Desired Requirements
• Communications and networking systems background is highly desired.
• Demonstrates strong skill sets in research, writing, critical thinking, and analysis.
• Qualified Nuclear Engineer Officer.
• Master's degree.
• Understanding of national security topics through education and/or experience.
• Top Secret/SCI clearance is highly desirable.