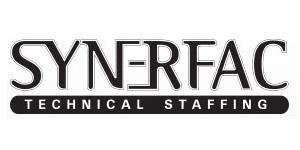 Millwright from Synerfac Technical Staffing
Coraopolis, PA
We have a client loacted in the Robinson Area seeking a 1st shift Millwright

Duties:

- Replace defective parts of machine or adjust clearances and alignment of moving parts.
- Align machines and equipment, using hoists, jacks, hand tools, squares, rules, micrometers, and plumb bobs.
- Connect power unit to machines or steam piping to equipment, and test unit to evaluate its mechanical operation.
- Repair and lubricate machines and equipment.
- Assemble and install equipment, using hand tools and power tools.
- Position steel beams to support bedplates of machines and equipment, using blueprints and schematic drawings, to determine work procedures.
- Signal crane operator to lower basic assembly units to bedplate, and align unit to centerline.
- Insert shims, adjust tension on nuts and bolts, or position parts, using hand tools and measuring instruments, to set specified clearances between moving and stationary parts.
- Move machinery and equipment, using hoists, dollies, rollers, and trucks.
- Attach moving parts and subassemblies to basic assembly unit, using hand tools and power tools.
- Assemble machines, and bolt, weld, rivet, or otherwise fasten them to foundation or other structures, using hand tools and power tools.
- Lay out mounting holes, using measuring instruments, and drill holes with power drill.
- Bolt parts, such as side and deck plates, jaw plates, and journals, to basic assembly unit.
- Level bedplate and establish centerline, using straightedge, levels, and transit.


Requirements:

- Ability to use hand jacks, forklift, or overhead cranes.
- Experience using various micrometers, possess both hydraulic and pneumatic knowledge, align and test equipment.
- Experience with installing piping for grease, electrical and hydraulic system.
- Strong Mechanical Skill
- Strong Mathematics Skills
- Engineering and Technology skills
- Ability to Watch gauges, dials or other indicators to make sure machine is working properly
- Ability to read drawings
- Operate different machinery
- Knowledge of materials, methods and tools involved in reassembling and disassembling
- Repair machines or systems using the needed tools
- Capable of safely rigging and lifting large and heavy objects utilizing overhead cranes.