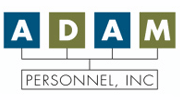 Mortgage Underwriter at Adam Personnel, Inc.
New York City, NY 10018
Our client, a nonprofit organization, is seeking a Mortgage Underwriter for our home purchase mortgage line of business. The Mortgage Underwriter underwrites and processes mortgage loans, rehabilitation loans and grants and coordinates with our lending partners to ensure timely closing of loans. In performing this work, s/he ensures the implementation and execution of the organization's lending procedures and policies and provides technical support to lending staff.
Responsibilities:
Underwrite and process mortgage loans, including review of all pre-commitment and pre-closing packages transmitted to the lending department and review of post-closing packages prior to delivery to Loan Fund Management.
Ensure loan structure is consistent with loan policies, lending program policies, procedures, and regulatory requirements.
Ensure compliance with all State and Federal regulations, including adherence to TRID regulations, with a commitment to professional ethics.
Must have current knowledge of underwriting and credit risk principles
Familiarity with Encompass 360 and should be proficient at Excel
Pipeline management experience is required
Analyze credit strength, employment history, property characteristics, and all other information pertinent to the credit decision process on each mortgage application to ensure that the borrower meets established loan requirements.
Identify credit policy exceptions and incorporate suitable mitigates into the credit package.
Participate in the annual Planning and Budget process for the Lending Department.
Maintain the lending policy and all amendments or additions to same and advise lending staff on the relevant procedures and provide further guidance or information.
Maintain records, compliance documents and other administrative materials and prepare reports and/or proposals and generate regulatory reports as directed.
Identify, develop and maintain new business and a robust pipeline through community engagement and strategies to further develop relationships with partners on a regional scale.
Some loan origination work may be required, including soliciting new mortgage business, selling mortgage products to meet established loan quality and production goals, and developing new sales techniques.
Professional Requirements:
Strong underwriting skills and ability to independently understand and communicate complex credit issues and analyze credit risks.
Strong business development, relationship management, and lead generation skills.
Ability to handle multiple tasks simultaneously in a fast paced diverse and growth-oriented environment. Excellent communication, interpersonal, consultative sales and presentation skills.
Required Education and Experience:
Bachelor's Degree with five years (+) underwriting experience in corporate, consumer, mortgage or private banking lending.
The Underwriter must be eligible to meet requirements under the S.A.F.E Act.
Competency in the use of EMCOMPASS loan processing software required.
REPORTS TO: Director of Lending
$60,000.00 - $68,000.00 /year