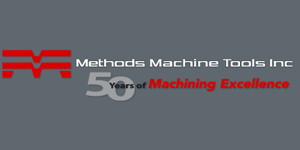 Multimedia Designer at Methods Machine Tools Inc.
Sudbury, MA 01776
Methods Machine tools has an immediate opening for a Multimedia Designer based at our corporate headquarters in Sudbury, Massachusetts. Methods Machine Tools is a privately owned company, that serves as a strategic partner and importer of high end Japanese Machine Precision Machine tools; with direct and dealer offices covering all of North America. The Multimedia Designer is responsible for working with our marketing team to create, print, digital and video content for different departments, offices and for external use.
Roles/Responsibilities:
Work with Product Managers to design/edit product brochures.
Work with internal staff and external clients to develop video scripts.
Work with Product Managers to design/edit technical and promotional flyers.
Design posters, banners, and signage for tradeshows/events.
Optimize logos and machine decals for print.
Work with Marketing Manager to design ads according to the yearly media plan.
Work with Marketing Manager to design social media posts, banners, and videos.
Product photography consisting of lighting, production, and editing of photos.
Photography and videography of tradeshows/events.
Production and direction of videos for internal and external use.
Maintain knowledge of latest relevant software and technologies.
Communicate and simplify complex and technical concepts through visuals and animations.
Work with Marketing Manager to design social media posts and banners.
Manage MailChimp database.
Work with internal staff to design email campaigns.
Design graphics for web advertisements.
Develop and manage new website functions.
Assist Marketing Manager with graphic design duties.
Maintain knowledge of latest relevant software and technologies.
Create and update design concepts, graphics and layouts for digital and/or print material.
Bring new and creative ideas to create and enhance UI/UX for the company's website and social media platforms.
Assist with SEO strategies, optimization, and analytics.
Take on special design tasks to support multiple projects.
Requirements:
Intermediate to advanced knowledge of Adobe Creative Suite (Premiere, InDesign, Illustrator, Photoshop, etc.).
A strong understanding of print and digital design.
Website development knowledge including: HTML, CSS, PHP and or WordPress implementation
Understanding of monitoring tools including Google Analytics.
Knowledge of SEO best practices, best industry tools and techniques, including link building, site speed optimization, Meta tag optimization, content strategy, information architecture and analysis.
Proficient in social media tools (LinkedIn, Twitter, Facebook, etc.) including postings and analytics.
Understanding of visual elements (layout, type and fonts).
Basic with DSLR cameras, sound/lighting equipment, and editing software such as Premiere/Final Cut Pro, and After Effects.
Excellent verbal and written communication skills.
Ability to work independently and as part of a team.
Ability to think creatively, problem solve, and develop new design concepts, graphics, and layouts.
Ability to manage multiple deadlines on various projects at one time. Extensive knowledge of email marketing best practices and most popular systems.
Qualifications:
Bachelor's degree with 3 - 5 years relevant experience.
Must have relevant portfolio available, online preferred.