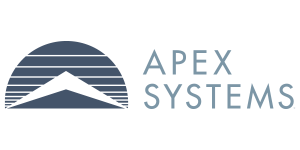 .Net Developer at Apex Systems
LIncoln, NE 69508
.NET Developer - Start remote - will move to onsite (Lincoln, NE)
The Nebraska Department of Health & Human Services Information Systems and Technology division is seeking a highly-motivated,  Application Developer. The Application Developer will be play a key role supporting the Division of Public Health on projects delivering data visualization applications for the Nebraska Community Health Compass (Compass) data platform.
Data visualization applications are developed using the LogiAnalytics Studio environment, Microsoft SQL, and platform development tools (XML, HTML, CSS, and JavaScript). There are other systems that are integrated and/or maintained using various other languages and database structures. Specifically, as a 'Logi' developer, this work would include listening to the business, transforming data, and creating visualization solutions. This critical role spans the SDLC gamut; designs, configures, codes, documents, tests, implements, provides support for, and trains users on new interactive sites.
Mandatory Position Requirements:
Comprehensive knowledge of Server Integration and Data Management Solution for Microsoft Azure (Azure BLOB, Batch Service, Azure Data Factory), three years minimum with two years in ADF environment;
Hands-on experience in creation of ETL mappings and transformations;
Very solid knowledge in data warehouse designs using star schema and snow flake schema architectures;
Experience working in agile (sprint) development structure;
Deal with queries and stored procedures against large databases with millions of data records;
Three years or more of data manipulation and transformation within databases from multiple servers (Oracle, SAS, flat files, etc.) to SQL Server using SSIS and Data Factory;
Three years or more of reporting development with any of the following tools (SSRS, Power BI, Tableau, or QlikView);
Special consideration given to experience with LogiAnalytics Data Visualization software, or ArcGIS Mapping software.
 
Preferred Position Requirements:
Experience building scalable, high quality, and high-performance applications and reporting systems.
Experience with AJAX / XML / HTML / CSS / Java Script.
Experience with .NET / C#.
Experience with SQL & SQL Server Management Studio.
Experience with IIS.
Experience with LDAP and/or using Active Directory.
Helpful – Experience with LogiAnalytics Studio.
Helpful – Experience with SAS.
Helpful – R / Python.
Position Logistics/Contingencies:
Travel will not be required.
Position will be housed in Lincoln, Nebraska. [Current provisions for remote work is allowed.]
Contractor's rate must cover living expenses and travel to Lincoln, Nebraska.
If interested please send resumes to Noah at NDwornicki@apexsystems.com
EEO Employer
Apex Systems is an equal opportunity employer. We do not discriminate or allow discrimination on the basis of race, color, religion, creed, sex (including pregnancy, childbirth, breastfeeding, or related medical conditions), age, sexual orientation, gender identity, national origin, ancestry, citizenship, genetic information, registered domestic partner status, marital status, disability, status as a crime victim, protected veteran status, political affiliation, union membership, or any other characteristic protected by law. Apex will consider qualified applicants with criminal histories in a manner consistent with the requirements of applicable law. If you have visited our website in search of information on employment opportunities or to apply for a position, and you require an accommodation in using our website for a search or application, please contact our Employee Services Department at employeeservices@apexsystemsinc.com or 844-463-6178.
401K
Life Insurance
Medical, Dental and Vision
88,095 - 110,937 /year
.NET Developer / Engineer
What is this?