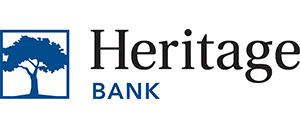 New Accounts Representative at Heritage Bank
Olympia, WA 98501
Heritage Bank currently has an exciting opportunity to join our organization. We are looking for people who want more than just a job – who want to build a career and make a difference in the communities where they live and work by building and maintaining customer relationships.

The Olympia branch is seeking a New Accounts Representative to help customers meet their financial goals by providing exceptional customer service and opening new accounts.

This position is Full Time; typical schedule is Monday 8:30 a.m. to 5:40 p.m., Tuesday 8:30 a.m. to 5:15 p.m., Wednesday 8:30 a.m. to 4:30 p.m., Thursday 8:15 a.m to 5:15 p.m., and Friday 8:30 a.m. to 5:45 p.m. Flexibility is required to work as needed to ensure adequate staffing for training or employee absences.

The successful candidate will be able to:
Build and maintain strong business relationships with all customers and prospective customers through established customer service and sales standards.

Open new accounts. Actively grow and cross-sell business transaction accounts.

Partner with other lines of business to meet customer needs and to achieve established production goals.

Develop and maintain an in-depth knowledge of current Bank products and services.

Maintain confidentiality when handling customer requests and transactions.

Ensure compliance with applicable regulatory requirements and internal policies and procedures.

Provides timely and accurate resolution to account related issues and backs up operational duties and functions.

Receive checks and cash for deposit, verify amounts and endorsements, enter all necessary information in data processing system, issue receipts, cash checks and pay out money upon verification standards and balance in an accurate and complete manner.

Place holds on accounts as required and completes appropriate documentation for holds placed.
Working Environment/Conditions:
Climate controlled office environment.

Work requires regular attendance, punctuality and adherence to agreed-upon schedule with willingness to work a flexible and/or rotating schedule. May be required to work Saturdays and/or extended hours, as needed.

May be exposed to potential risk and hazards associated with criminal activity (e.g., robbery and/or attempted robbery, fraud, security) - receives detailed instruction to minimize risk.
Physical Demands/Effort:
Work may involve the constant use of computer screens, reading of reports, and sitting throughout the day.

Ability to operate a computer keyboard, multi-line telephone, photocopier, scanner, facsimile, fine count cash and operate a cash counter which often requires dexterity of hands and fingers with repetitive wrist and hand motion.

Ability to stand or sit for extended periods of time and duration of shift.

Ability to occasionally kneel, reach, bend, push, pull and carry.

Occasional lifting to independently move or transport money and coin, 25-50 lbs., or files and/or boxes 5-10 lbs.
The above statements are intended to describe the general nature and level of work being performed and are not an exclusive list of all qualifications for this position.
Heritage Bank is an Equal Opportunity Employer
All qualified applicants will receive consideration for employment without regard to race, color, religion, sex, sexual orientation, gender identity, national origin, age, protected veteran status, disability, or any other basis protected by applicable law.
Job applicants have certain legal rights. Please click here for information regarding these rights.
If you need assistance completing the online application, please email: HBRecruiting@HeritageBankNW.com
*mon