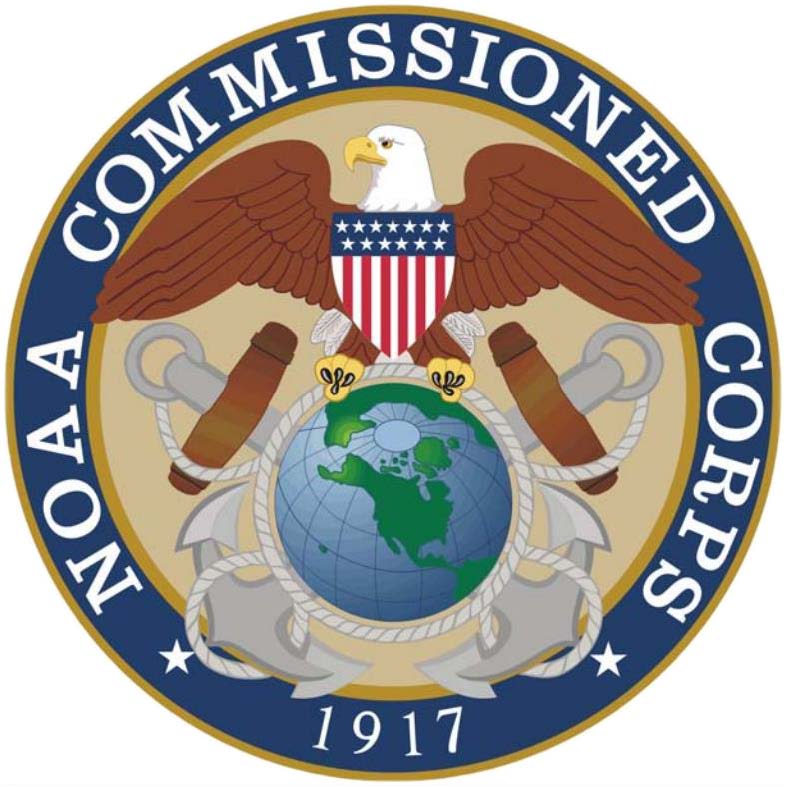 NOAA Commissioned Officer Corps at NOAA Commissioned Officer Corps
IT'S MORE THAN A DESK JOB!
If you are a graduate of a four-year college or university or are graduating soon and are interested in a career that includes service to your country, science, and adventure, you will find a unique opportunity in the NOAA Commissioned Officer Corps (NOAA Corps).  The NOAA Corps is the uniformed component of the National Oceanic and Atmospheric Administration (NOAA), a Bureau of the Department of Commerce.  

This unique uniformed service consists of approximately 321 commissioned officers who work alongside NOAA's civilian employees to ensure the economic and physical well-being of the Nation.  NOAA Corps officers provide the dynamic leadership, technical and operational expertise, and breadth of background and experience to optimize NOAA's missions.  
A typical officer's career is spent in a broad variety of assignments that rotate between sea duty, aviation, or shore stations.  NOAA Corps officers operate ships and small boats, fly aircraft, lead mobile field parties, conduct diving operations, manage research projects, and serve in leadership positions throughout NOAA.  Assignments are not necessarily related to an officer's academic field, but each will contribute to the officer's development as a technically competent leader. 
You could command a survey or research vessel, pilot fixed-wing aircraft on remote sensing missions, discover what lies beneath the seafloor, lead environmental assessments following national disasters, and be a key player in NOAA's quest to provide the highest-quality environmental observations for the good of the Nation.

The core values of the NOAA Commissioned Officer Corps are Honor, Respect, and Commitment.  As members of the Nation's premier service for worldwide environmental observations, NOAA Corps officers serve their country with dedication and pride.  

COMPARABLE PAY AND BENEFITS
The pay and benefits you'll receive as a NOAA Corps officer are nearly identical to those received in the six other uniformed services, including salary, health-care coverage, and retirement.  NOAA Corps officers have similar scheduled pay raises and regular promotions.  They are also eligible for tax-free housing, term life insurance, and the GI Bill.  Throughout their career, NOAA Corps officers are provided with various training and leadership opportunities to develop the competencies necessary for continued advancement.
DO YOU HAVE WHAT IT TAKES?
To be considered for an appointment in the NOAA Commissioned Officer Corps, you must:
Be a United States citizen.

Hold a bachelor's degree from an accredited college.  Course work completed must include 48 semester hours in engineering, math, or sciences that pertain to NOAA's missions.

Be in excellent health with normal color vision and uncorrected visual acuity no worse than 20/400 in each eye, correctable to 20/20.

Demonstrate good moral character, leadership, and initiative.
Selected candidates are appointed at the rank of Ensign after successful completion of the initial 5 month Basic Officer Training Course (BOTC) conducted alongside the USCG Officer Candidate School (OCS) at the USCG Academy. There is a 15 month obligation following successful completion of BOTC.

NOW ACCEPTING APPLICATIONS FOR THE FOLLOWING FIELDS:

Atmospheric Science, Biochemistry, Biology, Chemistry, Climatology, Computer Science, Ecology, Engineering, Environmental Science, Geochemistry, Geography, Geography information Systems (GIS), Geology, Marine Biology, Mathematics, Meteorology, Physics, Physiology, Statistics, Zoology, Ecology.
APPLICATION DEADLINE
All application materials for BOTC 137, including letters of recommendations and transcripts must be received by June 6th, 2019. BOTC 137 is scheduled to start at the beginning of January, 2021. The deadline BOTC 137 will be around January 6th, 2021 and will begin mid-July 2020.
D
etails
will be posted on the NOAA Corps Recruiting Site. 

https://www.omao.noaa.gov/learn/noaa-corps/join/applyingwww.noaacorps.noaa.gov

.
---
To learn more, visit the NOAA Corps recruiting website (www.noaacorps.noaa.gov).  If you would like to apply for the NOAA Corps, click here and utilize our E-Recruit system -                         
https://cpc.omao.noaa.gov/erecruit/login.jsp
*If you are seeking a civilian shipboard position with NOAA, please visit our Vessel Employment Opportunities website ( http://www.omao.noaa.gov/learn/marine-operations/about/careers ).
401K
Military Leave
Retirement / Pension Plans
Employee Events
Vacation/paid time off
40,000 - 50,000 /year
Housing allowance in addition to salary.