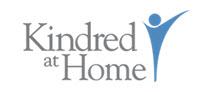 Office Clerical Assistant at Kindred at Home
Dallas, TX 75206
I believe that better care begins at home.
Compassionate care, uncompromising service and clinical excellence that's what our patients have come to expect from our clinicians. Kindred at Home, a division of Kindred Healthcare Inc., is the nation's leading provider of comprehensive home health, hospice, and non-medical home care services.
Kindred at Home, and its affiliates, delivers compassionate, high-quality care to patients and clients in their homes or places of residence, including non-medical personal assistance, skilled nursing and rehabilitation and hospice and palliative care. Our caregivers focus on each unique patient to deliver the appropriate care and emotional support to our patients and their families.

As anOffice Clerical Assistant, you will:
Provide clerical support to department staff. Type memos/correspondence, file/retrieve documents, schedule appointments/meetings, copy/distribute material, etc.

Respond to telephone calls, take messages and forward callers to appropriate staff members.

Provide back-up assistance to other staff members, meet/greet visitors, and direct them to the appropriate person/department.

Assist the Branch Director in updating reference manuals to ensure compliance with regulatory agencies and internal policies/procedures/standards.

Sort, prioritize and distribute incoming mail and/or faxes.

Participate in performance improvement activities, and encourage participation by other employees. Provide information for root cause analyses and the identification of opportunities for improvement.

Assist Branch Director in implementing/maintaining operational processes to ensure compliance to company policies, legal requirements and regulatory mandates.
Required Skills
Qualifications
High School Diploma or the equivalent

A minimum of one year clerical and related systems experience in a healthcare environment

General knowledge of microcomputer/word processing software

Effective organization, attention to detail and oral/written communication skills
Required Experience
~MON~
All qualified applicants will receive consideration for employment without regard to race, color, religion, sex, sexual orientation, gender identity or national origin.