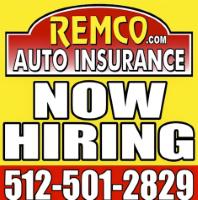 OFFICE MANAGER & SALES MANAGER - $2400 MONTHLY + Commissions at Remco Insurance
Beaumont, TX 77701
IMPORTANT - Please call to set up interview,
Please follow the directions below
PLEASE CALL: 512-501-2829, it will then take you to a voice message system and on the voice message system please be sure to leave what city you're interested in as we are hiring for several cities. Please ask for Mary when leaving a message.
NO EXPERIENCE NEEDED WE WILL TRAIN YOU!!
Serious people looking for long term careers only as we are looking for long-term sales agents.
Openings in BEAUMONT, TX

-Must be able to travel between Beaumont, TX - Orange, TX.
2910 College St, Beaumont, TX 77701
Welcome to the Remco Insurance Team!
We are happy and excited you are wanting to be a part of our company.
You do not need to have experience in the field but need to have a very good attitude, be a fast learner, be reliable and great at sales.
Insurance sales agent: You will be selling insurance, making changes on customers polices, taking customers payments, and quoting new customers.
-------------------------------------------------------------------------------------------------------
POSITIONS AVAILABLE:
INSURANCE AGENT & OFFICE MANAGER POSITION
Pay information:
$2,200 a month + Commissions - No Experience-We will train you
$2,400 a month + Commissions - If you have a insurance License and sales experience.
HOURS:
Monday to Friday 9-7
Saturday 10-5
Sunday Off
Job Title and Job Descriptions:
-Needs to be good under pressure and stress.
-You will be working in an office environment
-Must be a Fast learner
-Must be good at problem solving
-Must be able to concentrate and be on a computer for most of the day
-This is for people looking for a career and long term opportunity not short term.
-------------------------------------------------------------------------------------------------------
Position Qualifications:
-Experience with customer service and friendly with Customers
-Must speak English & Spanish (Bilingual ONLY please)
-Good people skills
-Upbeat attitude
-Be able to problem solve
-Be good under pressure
-Computer literate (How to print, Copy, Scan, Search desktop)
--------------------------------------------------------------------------------------------------------
Benefits and Bonus Structure:
-Raises: Raises are given yearly. As long as your sales increase & have good attendance and you try your best at it, you can go very far in this company instead of jumping job to job.
-Medical, Dental, and Vision (Offered after being with the company for 60 days) which we pay 50% and you pay 50% .
-Vacation Time off : After you are with us for one year we offer paid vacation every six months
-------------------------------------------------------------------------------------------------------
PLEASE FOLLOW INSTRUCTIONS BELOW TO SET UP INTERVIEW:
PLEASE CALL: 512-501-2829. You will then be prompted to a voicemail; on the Voicemail please make sure to ask for Mary and state the position & City you are interested in as we are hiring all around Texas
2,200.00 - 2,400.00 /month
Includes Bonuses & Commissions