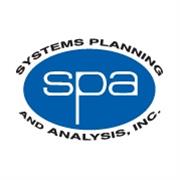 Operations Research Analyst Intern at Systems Planning and Analysis
Alexandria, VA 22311
The Intern Candidate will assist the Strategic Systems Analysis Group (SSAG) to provide timely and objective assessments and recommendations that integrate technical, operational, programmatic, policy and business analysis to multiple organizations within the Department of the Navy.  The operations research analysis performed focuses on the Navy's undersea community including Navy's Strategic Systems Programs (SSP) and NAVSEA program managers for the COLUMBIA Class SSBNs and in service submarines.  We work to provide integrated solutions based on information and communications throughout the chain of command to ensure clear and consistent analysis and recommendations that are aligned to strategic and leadership goals while still being executable by the working level technical communities. 
Application timeline for summer 2021 internship (typically mid May to mid August):
Applications can be submitted from 20 November 2020 date to 31 December 2020
Applications will be reviewed through 03 January 2021.
Interviews will be conducted through 17 January 2021.
Decisions (offers) will be extended starting 20 January 2021. 

#
The intern will assist senior analysts in model and methodology development, software development, output visualization for various data streams, and participate in multidisciplinary study teams and perform the following activities: study planning; simulation development, evaluation, verification, validation, and execution; data extraction and analysis. They will participate in development of scientific simulations and data processing tools and work with the multidisciplinary team to create integrated analysis reports and recommendations to clients.  
Enrolled in a Master's or PHD program related to Operations Research or Data Science

Bachelor's degree from an accredited college/university in data science, operations research, mathematics, computer science, or other STEM field is required

Must have experience in any of the following programming languages: Python, R, MATLAB, Java, C+

Must be proficient in using Microsoft Office, including Word, Excel, and PowerPoint

Must be able to obtain a DoD Security Clearance
Desired Qualifications:
Preference for education or experience with Monte-Carlo techniques and configuration management is desirable

Preference for education or experience with optimization analysis and use of CPLEX or Gurobi

Preference for experience working with Tableau, PyCharm, git, BitBucket, Jira, and Confluence