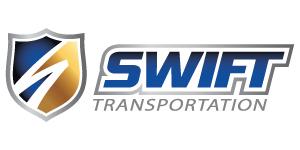 Driver/Operations Support - Full Time at Swift Transportation
Phoenix, AZ
Driver/Operations Associate – Full Time, Weekends, Days or Evenings


Let's be honest, this is not your first time scrolling through a corporate website looking for a job. So, why Swift? We understand people leave companies if they are not offered rewarding, challenging work. People look for new opportunities if they are not surrounded by coworkers and leaders they trust. At Swift, we have some of the most amazing passionate hard-working people you will ever meet. We have adopted the approach that everyone makes decisions based on the best interest of the company
FULLY LOADED
So far you seem to like us, let us tell you more about how awesome we are. Our benefits are top notch. Sure, we could wow you with the normal benefits plan, but we decided to kick it into overdrive and see if we can push the pedal to the metal. These benefits are so hot, you need A/C on full blast to read this list.
401(K) Retirement Plan
Medical, Dental, and Vision Coverage
Employee Assistance Program
Financial Connect ®
Legal Connect ®
Estate Guidance ®
GuidanceResources ®
Flexible Spending Accounts
Life and accidental death and dismemberment insurance
Supplemental Benefits
Disability Insurance
Financial Wellness Program
Employee Stock Purchase Plan
Employee Discounts
This position is a full-time position and may require additional hours outside of a traditional schedule as needed. This position is an hourly position and pay is $16-$19 depending on experience and qualifications. All training is paid.


Primary Purpose and Essential Functions:

We are looking for individuals who can communicate well with others, is detail-oriented and who also possesses excellent organization skills. Transportation industry experience is preferred but possessing CDL driving, customer service and /or management experience is just as great! We place great pride in providing great service to our customers and our driving associates, so the following would be required to work for us:
Ability to work as a part of team and autonomously
Positive attitude and willing to adapt to a changing environment. 
Highly organized 
Driving experience and or 6+ months customer service, management experience preferred, and / or operations experience
 
Copy and paste the link into the browser window to see a complete job description:
https://swifttrans.jdxpert.com/ShowJob.aspx?EntityID=2&id=2195