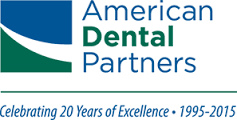 Orthodontic Assistant at American Dental Partners
Phoenix, AZ 85042
An orthodontic assistant supports and assists providers with patient care. It is essential to be able to lead, be
flexible, friendly, have a 'can do' personality and work in a timely fashion. In addition, an orthodontic assistant
must display open communication to co-workers and a commitment to patient satisfaction.
Beginning records study models, X-rays, panorex, cephlometric, digital photographs
§ Efficient in 1BA, adjustments, FCDB and Debands
§ Impressions (pouring and trimming models for appliances and presentation)
§ Ship/receive/properly store all lab (retainers, study models, appliances)
§ Duplicate records for transfers
§ Photo knowledge properly take quality intra-oral and extra-oral photos
§ Proficient and accurate bending/coordinating arch-wires
§ Removal of fixed bands/brackets
§ Ability to fit headgear and give instructions
§ Ligature removal and replacement
§ Wire removal and placement
§ Size, fit and cement orthodontic bands
§ Take PVS impressions and bite registrations for Invisalign treatment
§ Separator placement
§ Fabrication orthodontic retainers
§ Consult with patient / parents during exam
§ Ortho case presentations to patient (parent)
§ Effective communication to patients/parents regarding: POH, rubber band wear, treatment progress and
cooperation issues
§ Coordinate correspondence between orthodontist and general dentists
§ Promotes patient incentive initiatives
§ Order Orthodontic Supplies
§ Other duties as assigned
Travel is required
· Accurately removal of bonding material with hand piece
· Prepare teeth for bonding; prophy with a slow-speed hand piece and etching
· Select and cure orthodontic brackets after being placed by the orthodontist
· Bonding composite material to tooth surfaces for Invisalign attachment
Required Skills
Required Experience
§ High school diploma and demonstrated ability to assume dental assistant responsibilities
§ Current dental assistant license is required in certain states
High school diploma and demonstrated ability to assume dental assistant responsibilities.
Demonstrate a working knowledge of dental records and documentation.
Ability to perform basic computer functions.
Comply with protocols and standards.
Exercise knowledge of dental instruments and terminology.
Support shared vision and core values.
Travel is Required


Bilingual is a must