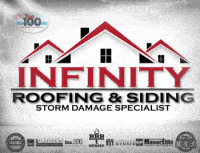 Outside Sales Representative at Infinity Roofing & Siding Inc
Houston, TX 77084
Infinity Roofing and Siding is hiring self motivated, hard working individuals who have the opportunity of making a commission based pay with an unlimited amount of potential earning. Here at Infinity we strive to be the best! We want to succeed and be successful in all that we do! Backed by the BBB, with an A+ rating for the last 16 years, NOW is the time for a career change and start earning what you're WORTH!

The requirements:

Reliable transportation
Cell phone
You must enjoy working outside
Able to climb a ladder
Positive attitude
Stong communication skills
Goal oriented

We will train all new sales reps. You must be willing to learn our method of sales by going door to door. We use a software program that tracks weather patterns. We know what neighborhoods need our services. You must be prepared to generate business. This is YOUR opportunity!!

Storm season is in full swing. There's no reason to limit your self to a small company with a small market focus. Don't be a victim of the over promising and under-delivering of these smaller and less established companies. The only roofing company you should represent is Infinity Roofing and Siding. LOOK US UP.. Infinity Roofing & Siding. We're an amazing company to work for!! What are you waiting for?

Apply at www.infinityroofer.com/work-here Candidates who apply through the website are top priority. Or call Kara @ 832-801-0073!

commission only pay structure