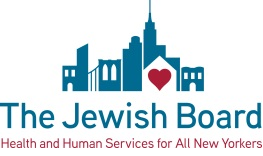 Peer Specialist at The Jewish Board
Brooklyn, NY
POSITION OVERVIEW:
The Personal Recovery Oriented Services (PROS) program aims to help each participant achieve their chosen life goal related to housing, work, education and/or building their socialization skills.  The services are provided using a recovery-oriented, person-centered, strengths-based approach with the goal of empowering individuals to improve their quality of life, achieve personal life goals as they take a more active role in their community.  The Peer Specialist provides PROS program participants with supportive psychiatric rehabilitation services to facilitate their full integration into the community. The Peer Specialist will draw on their lived experience with mental illness to model the recovery process for program participants by supporting them to articulate their goals for recovery, learn and practice new skills, and monitor their progress in effectively overcoming mental health barriers.
KEY ESSENTIAL FUNCTIONS :
Provide concrete service delivery to participants as per program needs.

Lead and co-lead a variety of recovery-oriented groups, especially on topics of self-advocacy, work and entitlements, daily living skills, independent housing skills, preparing participants for employment and supporting their ability to maintain employment

Meet individually with participants as needed to provide additional support, facilitate problem-solving and implementation of tasks

Communicate with collaterals and other agency staff to support consistent and effective service delivery

Participate in team meetings, supervision, Initial Case Conferences and discharge planning meetings

Complete all documentation for services provided, outreach efforts and collateral communications within program time-frames.

Develop, implement, coordinate and monitor a range of client-centered activities, including activities that take place in the community

Develop and maintain a Participants' Resource Manual of community based recovery resources.

Take a leading role with the Consumer Advisory Board to train, model and support program participants to develop and practice their own peer advocacy skills.

May be assigned additional tasks and duties as needed for the program and participants' service needs

Ability to articulate the program's philosophy, mission and goals to a varied audience via presentations and meeting participation.

Demonstrate sound judgment and good decision-making skills to reasonably manage unexpected events

Attend trainings,meetings, case conferences

Ability to effectively present information to clients and staff in verbal and written formats.
REQUIRED EXPERIENCE/EDUCATION:
Lived experience with a mental illness and recovery preferred

Familiarity with NYS entitlements, OMH housing services, and mental health services

GED/HS Diploma

Basic computer skills

Ability to work within program guidelines with the support and guidance of a supervisor

Ability to recognize the need for confidentiality of information and to maintain such confidences

Ability to travel independently using public transportation
WORK ENVIRONMENT / PHYSICAL EFFORT:
While the offices of the Jewish Board are accessible in accordance with the ADA, the sites to which staff may need to travel may or may not be.
Risks/hazards associated with the position are those which may be encountered traveling around New York City.
Jobs are scraped from the URL http://ch.tbe.taleo.net/ rss feed