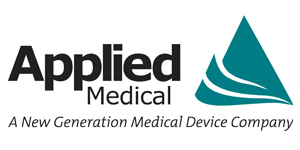 PLM Business Analyst at Applied Medical
Rancho Santa Margarita, CA
_________________________________________________________________________________
Applied Medical is a new generation medical device company with a proven business model and commitment to innovation that has fueled our rapid business growth and expansion. Applied Medical has been developing and manufacturing advanced surgical technologies for nearly 30 years and has earned a strong reputation in healthcare.  Our dedication to delivering the highest quality products and unique business positioning, provides our team members with the unique ability to contribute in a larger capacity than is possible in typical positions.
Position Description
Our Applied Technology Service (ATS) team plays a key role in furthering our commitment of leveraging and investing in technology. We are an integrated group that thrives on plenty of cross functional and cross technology interaction and collaboration. We are proud to provide service to the larger Applied Medical organization and do our part in making a meaningful, positive difference. As part of the ATS team, you will participate in innovative and mission critical systems initiatives and projects that solve business problems and improve efficiencies.
As a PLM Business Analyst, you will be responsible for working within the framework of a team and performing the following activities:
Understand the technology and process landscape of Applied Medical's Engineering, Product Development, and Technical Support teams including any integration points with other process areas.
Recognize and realize opportunities to improve process performance and/or quality:

Work closely with Leads, Master Users and other SMEs to define and validate requirements
Develop scope change, functional, and technical documentation
Configure process functionality
Work closely with development teams to clarify and refine requirements
Validate that configuration and software enhancements meet functional and technical requirements
Develop test plans, scripts, and data sets
Develop training material and provide training to end users

Support data integration, mapping, conversion and quality initiatives
Support SAP site implementations
Provide ongoing system support
Mentor junior members of the PLM team 
Position Requirements
This position requires the following skills and attributes:
At least 1 full-lifecycle experience implementing tier 1 ERP systems
5+ years of experience as a Business Analyst
5+ years of experience configuring PLM system (Using either SAP, Teamcenter, Agile, PTC windchill, or others)
Solid understanding of ERP and IT best practices and principles
Naturally curious, a quick learner and strong problem solver
Good organizational skills with exceptional attention to detail
Excellent written and verbal communication skills and relationship management expertise with an emphasis on tact and proactiveness
Demonstrated organizational skills with ability to manage multiple tasks coupled with strong analytical and problem-solving skills with exceptional attention to detail
Bachelor's degree with an emphasis in Business, Computer Science, Industrial, or Mechanical Engineering preferred
Experience working with Medical Device and Life Sciences industries preferred
Preferred
The following skills and attributes are preferred:
Experience working with Medical Device and Life Sciences industries preferred
Having PLM system certifications is a plus
Having CSWA or CSWP (SOLIDWORKS)certification is a plus
Experience with S4/HANA PLM Applications
Experience in debugging SAP code to troubleshoot issues is a plus
Experience in managing relationships with business partners and stakeholders is a plus
Benefits
Training and mentorship with ongoing learning and development courses
On-campus wellness activities
Comprehensive medical and dental and vision coverage
Education reimbursement program
401(k) program with discretionary employer match
Generous vacation accrual and paid holiday schedule