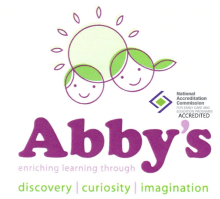 Preschool Teacher at Abby's Child Enrichment Center
FORT THOMAS, KY 41075
Abby's Child Enrichment Center is expanding their teaching team and seeking dedicated, dynamic, caring, and experienced teaching/childcare professionals to join our family of Early Childhood Educators. Abby's Child Enrichment Center is a perfect opportunity for an educator, and we will help you realize your career goals, no matter where you are in your professional journey. Teaching is more than just a profession, it's a calling. We encourage you to embrace your passion and to use your creativity to implement lesson plans that are brought to life in fun and imaginative ways. We believe a quality preschool education will change the course of a child's life. If you feel the same way and want to be part of our teaching team, please apply today.

Duties:
Stimulates emotional, intellectual, and social growth of children by directing educational programs and activities tailored to assigned class

Provides safe environment by maintaining orderly, clean, and appealing facilities

Encourages children's participation by providing interactive activities.

Keeps parents informed by posting parent information in the classroom; maintaining and sharing records of child's progress, attendance, and behavior.

Encourages development of children's self-control by utilizing classroom management and modeling techniques.

Maintains center's professional status by supervising, training, and evaluating staff and/or field experience students.

Encourages consistency of service by maintaining communications with parents and staff.

Protects families by keeping personal information confidential.

Maintains professional and technical knowledge 

Contributes to team effort by accomplishing related results as needed.
Skills/Qualifications: Nurturing, Safety Management, Creativity, Teaching, Presentation Skills, Flexibility, Motivating Others, Listening, Verbal Communication, Resolving Conflict, Self-Motivated