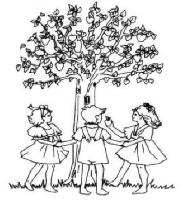 Preschool Teacher at Little Orchard Preschool, Inc.
LOOMIS, CA 95650
SEEKING AN EXPERIENCED PRESCHOOL TEACHER who is dedicated and motivated to provide quality care and fun, active learning experiences for children. The ideal candidate will be a fully qualified preschool teacher and have experience working with young children ages 2-4 years old.
RESPONSIBILITIES AND REQUIREMENTS OF THE POSITION:
Develop and deliver curriculum founded on the Center's philosophy of active intentional play based learning.
Set up activities in our outdoor nature explore outdoor classroom.
Create a positive, engaging, and creative learning environment based on children's interests and assessment items.
Use and assist children to learn appropriate ways to solve their conflicts and promote positive relationships utilizing center wide problem solving approach to conflict
Build trusting, open communication with children, families and staff
Observe and record children's growth, development and behavior using a variety of methods, work samples, photos, and anecdotal notes. Prepare portfolios for each child for the end of the preschool year. Hold conferences twice as year
Plan, participate and attend Center-wide seasonal events including family events, staff inservices and staff meetings
Maintain a clean, safe and hygienic environment including cleaning, sanitizing and rotating materials
Prepare nutritional snacks if needed
Assist in personal care routines with children (diapering, handwashing, eating,sleeping, changing clothes)
Undertake administrative tasks as required (assessments, parent communication,lesson plans, accident reports)
Undertake any needed cleaning and environmental classroom upkeep
Follow all Title 22 Rules and Regulations
QUALIFICATIONS:
Education: AA-BA Degree (preferred) in child development, early childhood education or human development. 18-24 ECE units will be considered. Must be able to provide transcripts showing child development, child, family and community, curriculum, and others as required)
Experience: One or more years of current teaching experience in a center based quality preschool program. Five years preferred.
DESIRED SKILLS AND ABILITIES
Excellent organizational and leadership skills
Strong interpersonal and communication skills
Ability to plan, prepare, and carry out lesson plans
Honest, mature, integrity, and passion for the field
High energy level, positive attitude and disposition throughout the day
Upbeat, friendly and tactful at all times
DOCUMENTATION REQUIRED PRIOR TO EMPLOYMENT:
CLEAR fingerprint clearance completed prior to hire (no exemptions)
Physician's Report of Good health status and TB test clearance
Copies of immunization records for MMR, DTAP, and FLU (or waiver) as required by State Law
College Transcripts from an accredited college showing child development coursework
Mandated Reporter Training as required by Title 22 (online training) required every two years
Pesticide Course (1 hour) (online training) required every year
DOCUMENTS and TRAINING REQUIRED WITHIN 2 MONTHS OF HIRE
CPR, First Aid Certificate for childcare employees (online classes are not permitted)
Health and safety in a childcare setting course or certificate
Full time employee benefits
Generous paidholidays
Paid sick days
Paid vacation days
Paid staff inservice days (4 per year)
401K (employer match)
Medical Insurance (employer match)
Teacher Training in specific active learning methodology
Shift: Monday through Friday 8:00-5:00 (part time M-F will be considered)
Start Date: As soon as filled - Interviews will be scheduled for qualified candidates
PLEASE SUBMIT THE FOLLOWING FOR CONSIDERATION
Resume
Cover Letter
Transcripts
Applicant QualificationsEdit
You have requested that Indeed ask candidates the following questions:
How many years of Preschool teaching in a licensed Center experience do you have?
What is the highest level of education you have completed?
Are you able to work in Loomis, CA?
Do you speak English and other is a plus?
Are you authorized to work in the following country: United States?
Are you willing to undergo a background check, in accordance with local law/regulations?
Which shifts are you available to work?
Which days of the week are you available to work this job?
When will you be available to start this job?
How is your previous experience relevant to this role?
When are you available for an interview or phone screen? Please list 2-3 dates and times or ranges of times.