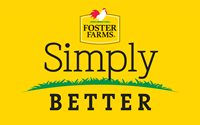 Production Worker at Foster Farms
FRESNO, CA 93706
Production Worker (Fresno)
Foster Farms is currently hiring for Production, Sanitation, and Maintenance Workers at our Fresno, CA (Cherry / Belgravia) plants. We offer steady employment, excellent medical, dental, vision, retirement benefits, tuition reimbursement, and advancement opportunities.
Positions: Various Openings
Start Time: Various (Days/Swing/Nights)
Job Type: Full Time (8+ OT/Weekends/Holidays)
Plant Location:
• Cherry – 2960 S. Cherry Ave Fresno, Ca 93706
• Belgravia – 900 W. Belgravia Ave Fresno, Ca 93706
Most positions required standing for eight (8) or more hours on a concrete floor.
Must be able to perform rapid and repetitive movement of the hand
Must be able to perform repetitive grasping; work in a cold, damp environment
Some positions require lifting 15 to 45 pounds on a frequent basis
Some positions may require to be able to push or pull 5 to 45 pounds
Some positions require repeated bending and stooping
Must be able to submit and pass a criminal background check and drug test
Physical lifting requirements vary by position
Able to stand for prolonged periods of time (8-10 hrs.) on concrete/metal grate floor
Repetitive grasping/pushing motions, over the shoulder reaching, frequent bending required
Current Open Positions:
1. Giblet Chiller Attendant
2. Trimmer
3. Offline
4. Rehanger
5. Evis Worker
6. Basket Packer
7. Blast Tunnel Receiver
8. Blast Tunnel Pusher
9. Cutter Packer
10. Dock Worker / Cooler Worker
11. Product Feeder
12. Sanitation
13. Pallet Jack / Bin Mover
14. Utility Wash-down
15. Stacker
16. Scale Operator
17. Loader
18. Paw Bagger
19. Live Hanger
20. Many more.
We have open interviews every week on Tuesday and Wednesday at our Belgravia plant located at 900 W. Belgravia Fresno, Ca 93706, between 8:00 am and 10:00 am. Please bring an ID and a facemask on whichever day that works best for you.
Application must be submitted prior to attending interview.
Please apply online at
https://jobs.fosterfarms.com/job/11296863/production-worker-fresno-ca /
Thank you for your interest in employment with Foster Farms, we look forward to meeting you soon.
Additional information
All your information will be kept confidential according to EEO guidelines.
Foster Farms is an Equal Opportunity Employer – Minorities, Females, Veterans and individuals with disabilities are encouraged to apply.
Foster Farms participates in E-Verify during the hire process at all locations for all new employees.